Razorhurst
Justine Larbalestier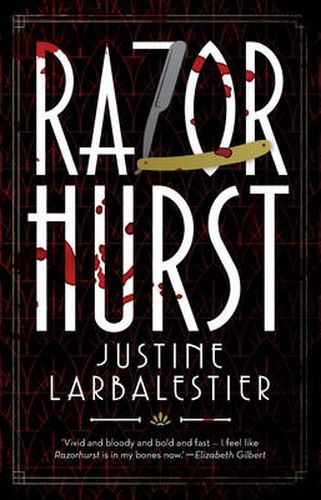 Razorhurst
The setting: 1932, Razorhurst. Two competing mob bosses - Gloriana Nelson and Mr Davidson - have reached a fragile peace.
Kelpie knows the dangers of the Sydney streets. Ghosts have kept her alive, steering her to food and safety, but they are also her torment.
Dymphna is Gloriana Nelson's 'best girl'. She knows the highs and lows of life, but she doesn't know what this day has in store for her.
When Dymphna meets Kelpie over the corpse of Jimmy Palmer, Dymphna's latest boyfriend, she pronounces herself Kelpie's new protector. But Dymphna's life is in danger too and she needs an ally. And while Jimmy's ghost wants to help, the dead cannot protect the living.
Gloriana Nelson's kingdom is crumbling and Mr Davidson is determined to have all of Razorhurst - including Dymphna. As loyalties shift and betrayal threatens at every turn, Dymphna and Kelpie are determined to survive what is becoming a day with a high body count.
'Vivid and bloody and bold and fast; I feel like Razorhurst is in my bones now.' - Elizabeth Gilbert
Review
Razorhurst is set in a place and time that may be unfamiliar to readers when they begin – Surry Hills, Sydney, in the 1930s – but a strong opening chapter places our feet firmly in the grotty backstreets. From here we follow the dual narratives of Kelpie, a gutsy, grungy street girl, and Dymphna, a beautiful, whip-smart and ambitious prostitute, thrown together and running for their lives after discovering the dead body of Dymphna's latest boyfriend. Extracts mingled in between the main action provide fascinating asides: in these we learn why razors became the weapon of choice, which events preceded Kelpie's life on the streets and Dymphna's as 'best girl' in a brothel and, briefly, the politics of the day.
Justine Larbalestier's lightness of touch, compassion for her two main characters and balance of story and history meant that by the end I wasn't ready to leave. Fortunately the author is generous in revealing her inspirations, and there is a reading trail to be followed, starting with Ruth Park's The Harp in the South. What Razorhurst adds to these great novels that came before it is both fitting and well-handled: ghosts. While some of Larbalestier's characters can see and hear ghosts, most cannot, but they are everywhere, which makes for some really clever, entertaining scenes. Highly recommended.
---
This item is not currently in-stock. It can be ordered online and is expected to ship in approx 3 weeks
Our stock data is updated periodically, and availability may change throughout the day for in-demand items. Please call the relevant shop for the most current stock information. Prices are subject to change without notice.