Aurora Rising (The Aurora Cycle 1)
Amie Kaufman,Jay Kristoff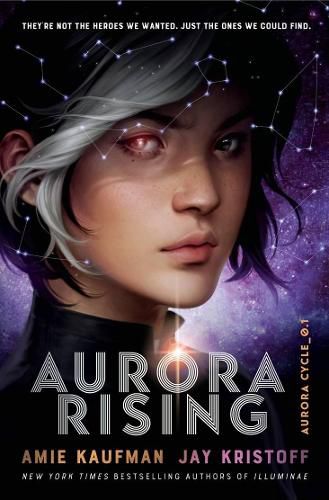 Aurora Rising (The Aurora Cycle 1)
The year is 2380, and the graduating cadets of Aurora Academy are being assigned their first missions. Star pupil Tyler Jones is ready to recruit the squad of his dreams, but his own boneheaded heroism sees him stuck with the dregs nobody else in the Academy would touch:
A cocky diplomat with a black belt in sarcasm
A sociopath scientist with a fondness for shooting her bunkmates
A smart-ass tech-whiz with the galaxy's biggest chip on his shoulder 
An alien warrior with anger management issues
A tomboy pilot who's totally not into him, in case you were wondering. And Ty's squad isn't even his biggest problem–that'd be Aurora Jie-Lin O'Malley, the girl he's just rescued from interdimensional space. Trapped in cryo-sleep for two centuries, Auri is a girl out of time and out of her depth. But she could be the catalyst that starts a war millions of years in the making, and Tyler's squad of losers, discipline-cases and misfits might just be the last hope for the entire galaxy.

NOBODY PANIC. 
Review
For five years Tyler has trained hard to earn the privilege of hand-picking his own team of cadets at the Aurora Academy. The night before the big draft he can't sleep and he convinces the lieutenant to let him take a scout ship out into the stars. What was meant to be a short trip to calm his mind turns into something much bigger when Tyler answers an SOS call from a ship that's been floating, dead, in the void for two-hundred years. Among the thousands of decayed bodies in their failed 'chronic tanks' he finds Aurora Jie-Lin perfect and alive, but asleep in a ship that will not stay in one piece for long. Tyler decides to rescue the girl and miss the big draft.
When he returns, he finds his squad is made up of the people no one else wanted: his mouthy twin sister Scarlet; his childhood best-friend, Cat, who definitely does not have feelings for him at all; a sociopathic science nerd, Zila; an exoskeleton wearing smart-mouthed Betraskan (an alien species), Fin; and, finally, his fighter is a warrior alien raised to kill, the short-tempered Kal. Ty somehow has to get these kids if not liking each other, then at least working together, because it turns out they have a seventh member, Aurora, and it seems everyone in the galaxy wants a piece of her.
Aurora Rising is full of romance, aliens, futuristic civilisations and dangerously high levels of sass – it's a perfect YA sci-fi novel. I had so much fun reading this book that even after 470 pages I still wanted more!
High recommended to all young adults 13+.
---
Dani Solomon is the assistant manager at Readings Kids.
This item is in-stock at 4 shops and will ship in 3-4 days
Our stock data is updated periodically, and availability may change throughout the day for in-demand items. Please call the relevant shop for the most current stock information. Prices are subject to change without notice.