Hometown Haunts: #Loveozya Horror Tales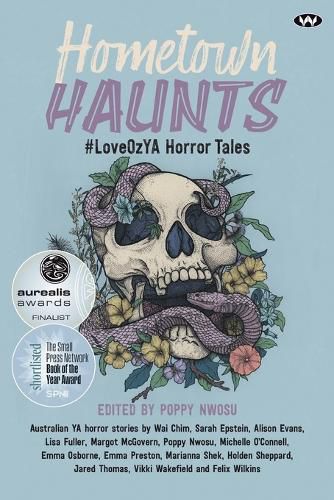 Hometown Haunts: #Loveozya Horror Tales
One bite of an apple from a family shrine unearths hungry ghosts. A poison garden unfurls a polite boy's deepest, darkest desires. Interfering with an Indigenous burial site unleashes ancestral revenge, to a metal soundtrack. An underground dance party during Covid threatens to turn lethal. And on the edge of a coastal rainforest, a grieving sister waits to witness a mysterious 'unravelling'.   
This #LoveOzYA anthology - the first to focus entirely on horror - unites a stellar cast of Australia's finest YA authors with talented new and emerging voices, including two graphic artists.   
Contributors are Wai Chim, Sarah Epstein, Alison Evans, Lisa Fuller, Margot McGovern, Poppy Nwosu, Michelle O'Connell, Emma Osborne, Emma Preston, Marianna Shek, Holden Sheppard, Jared Thomas, Vikki Wakefield and Felix Wilkins.   
The stories in this wide-ranging collection dig deep and go hard. While some are straight-up terrifying rollercoaster rides, others are psychologically rooted in our society's deepest fears and concerns: acceptance and fitting in, love and loss, desire and temptation, and the terror of a world threatened by catastrophic change … and even collapse.
From body horror to the supernatural, hauntings to transformations, and the everyday evil of humans to menacing outside forces, Hometown Haunts will have you glued to your chair … until you leap out of it!
Review
Hometown Haunts is all-Australian and all-amazing, bringing together some of our best established and emerging YA authors for a collection that will chill, thrill and leave you sleeping with the lights on.
Edited by Poppy Nwosu, the anthology is the first #LoveOzYA publication to focus exclusively on the horror genre. The impressive line-up includes Wai Chim, Sarah Epstein, Alison Evans, Lisa Fuller, Michelle O'Connell, Emma Preston, Holden Sheppard, Jared Thomas, Vikki Wakefield and Nwosu herself. Alongside these are stories by four writers – Margot McGovern, Emma Osborne, Marianna Shek and Felix Wilkins – which were selected through a competitive open call-out process.
This anthology digs up the horror genre and breathes new life into some classic tropes, while also shining a shaky torchlight on timely fears such as the climate crisis and the pandemic. There are stories about monsters, K-pop zombies and vengeful spirits – think twice before disturbing the resting sites of ancestors and watch out for those Hungry Ghosts! Not even our own minds can be trusted in these authors' hands.
There are tension-breaking laughs when you need them and lots of breathtakingly beautiful writing, as well as two graphic stories by Michelle O'Connell and Emma Preston. It's particularly exciting seeing Australian graphic stories included in a YA collection, as the medium is dominated by overseas creators.
The quality of storytelling and diverse perspectives and styles make Hometown Haunts one of the most exciting horror reads I've enjoyed in years. Alas, to read this collection is to be cursed to walk the earth raving about just how good it is! For ages 13+.
---
Pilgrim Hodgson is a bookseller at Readings Kids.
This item is not currently in-stock. It can be ordered online and is expected to ship in 10-14 days
Our stock data is updated periodically, and availability may change throughout the day for in-demand items. Please call the relevant shop for the most current stock information. Prices are subject to change without notice.