Phosphorescence
Julia Baird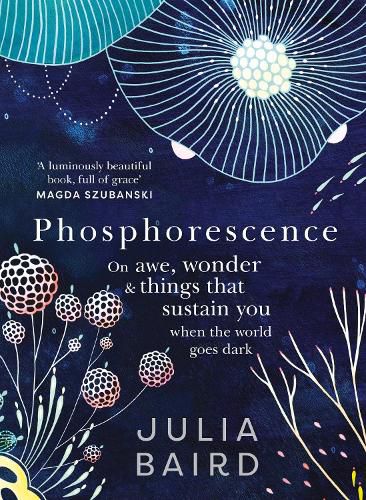 Phosphorescence
A beautiful, intimate and inspiring investigation into how we can find and nurture within ourselves that essential quality of internal happiness - the 'light within' that Julia Baird calls 'phosphorescence' - which will sustain us even through the darkest times.
Over the last decade, we have become better at knowing what brings us contentment, well-being and joy. We know, for example, that there are a few core truths to science of happiness. We know that being kind and altruistic makes us happy, that turning off devices, talking to people, forging relationships, living with meaning and delving into the concerns of others offer our best chance at achieving happiness. But how do we retain happiness? It often slips out of our hands as quickly as we find it. So, when we are exposed to, or learn, good things, how do we continue to burn with them?
And more than that, when our world goes dark, when we're overwhelmed by illness or heartbreak, loss or pain, how do we survive, stay alive or even bloom? In the muck and grit of a daily existence full of disappointments and a disturbing lack of control over many of the things that matter most - finite relationships, fragile health, fraying economies, a planet in peril - how do we find, nurture and carry our own inner, living light - a light to ward off the darkness?
Absorbing, achingly beautiful, inspiring and deeply moving, Julia Baird has written exactly the book we need for these times.     
Review
We already know and love Julia Baird. She has written many articles and (two) books addressing gender and politics. She is a journalist with something to say. She is the host of ABC TV's The Drum and we love to hear her opinion because we know that it will be considered, compassionate and smart. We know that she has kids, and that she has had cancer. She's a busy woman but she still found time to write her new and wonderful handbook for living a life well, Phosphorescence. Using her own – at times completely heartbreaking – memories, she takes you by the hand and leads you down her long, winding path to contentment.
Why should you care? Isn't she just another white, middle-class, educated woman writing about her search for self? Well, actually, no. Phosphorescence is not a self-help book, nor is it a memoir. It is a search for light. The clue is in the title; in simple terms, phosphorescence is a process in which energy is absorbed by something (an earth worm, a night light, a glow stick) and then released slowly in the form of a light. Baird uses this analogous process to examine friendships, family, world atrocities, climate change and more. Above all, she uses it to ask, how do we make sense of life? How do we explain our world to our children? Where do we find a place for contentment when the whole world seems so fragile? Reading Baird's book is like wrapping a warm blanket around your shoulders. It makes sense to cherish what we have. It makes sense to look for optimism. It also makes complete sense to shut the door and cuddle up with this unpretentious, kind read.
---
Chris Gordon is the programming and events manager for Readings.
This item is in-stock at 3 shops and will ship in 3-4 days
Our stock data is updated periodically, and availability may change throughout the day for in-demand items. Please call the relevant shop for the most current stock information. Prices are subject to change without notice.