The 10 best books I shared with my children this year
When I told my children I was leaving my job at Readings, they were shocked. "But where will we get our books from?" they said, which sounds a bit dramatic unless you've seen the volume of books I've been bringing home since I started the job. I've felt very lucky these past four years to have access to such a huge array of beautiful books to test-drive with them. So you can be assured that my family's top ten books of this year was chosen from a very large selection. It consists of the 2015 releases that we enjoyed together as bedtime stories, or ones we read separately and talked about afterwards.
One small amendment… This list doesn't include three obvious books: The 65-Storey Treehouse by Andy Griffiths and Terry Denton; Diary of a Wimpy Kid Book 10: Old School by Jeff Kinney; and, How To Train Your Dragon Book 12: How To Fight A Dragon's Fury by Cressida Cowell. All of these three books were begged-for and then read overnight on the day they were released.
---
The books my son loved best of 2015
My son's reading profile: he's 8 and still doesn't really believe he's a good reader. He thinks of it as hard work – much harder than playing Minecraft, for example – and loves to have a bit of a whinge when I say it's reading time, even though once he's doing it he enjoys it. He responds very positively to anything illustrated, and notices things in pictures that I miss. His main interests are animals (real and fantasy) and humour.
---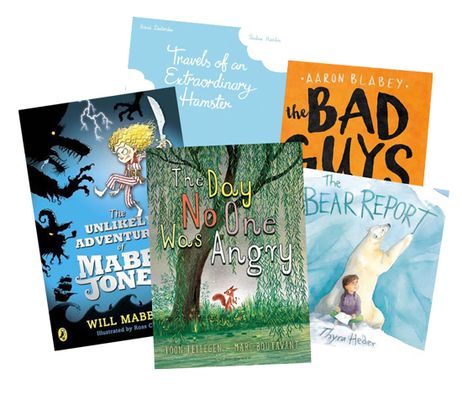 Travels of an Extraordinary Hamster by Astrid Desbordes and Pauline Martin is my son's sense of humour to a tee. The central character is so over-the-top, laughably arrogant and rotten to his friends. Hamster is like Garfield or Stewie from Family Guy, and the stories are about how he relates (or fails to relate) to his world, and his overwhelming tickets on himself. As it's a graphic novel, split into short scenes, I didn't have any trouble convincing my son to read it. He was laughing so much that my daughter came to see what was happening over his shoulder. It's completely daft without being full of fart jokes (no offence to fart jokes). See also the first book in the series, The Reflections of a Solitary Hamster. We read them the wrong way around and it didn't harm our enjoyment the slightest!
I read The Day No One Was Angry by Toon Tellegen and Marc Boutavant to my son as a series of bedtime stories. As we lay side by side, tears of laughter collected in our ears. These required a lot more thinking, and often the stories end unpredictably or unresolved, which is probably quite new to a young Australian child who is used to a safer kind of storytelling. Because I refused to read him more than one a night, he soon felt compelled to read them by himself (master tactic). These are quirky and sophisticated philosophy tales with anthropomorphous animals and a heap of eccentricity.
The Unlikely Adventures of Mabel Jones by Will Mabbitt is the sort of chapter book that makes my son feel very daunted (ie. the ratio of words to illustrations) so I read this to him as a bedtime story and only asked him to read out the odd page so I could see how his vocab was coping. (It was fine, but if there's one thing this child has taught me it's "patience, grasshopper".) Admittedly, this is such a fun read-aloud that I was glad he didn't finish it without me. There's a sequel coming early next year called Mabel Jones and the Forbidden City. (P.S. You need a good pirate voice.)
2015 has been the year that homework has become a dirty word in my household, so I knew my children would identify heavily with Sophie from The Bear Report by Thyra Heder. She simply cannot be bothered to write her report on polar bears and just wants to watch the telly. Then a polar bear shows up in her living room and takes Sophie to the Arctic for a proper "show don't tell" experience. Being an animal lover, this book with its stunning watercolours and warm, funny bear was a big hit with my son. I believe in the value of picture books long after they can read a chapter book.
The last 'book' in my son's list is actually the first two of a new series: The Bad Guys: Episode One and The Bad Guys: Episode Two by Aaron Blabey. And yes, this is another funny book. This new series looks like a little novel but it's told so sparingly that it's not going to put anyone off. A lot of the story needs to be interpreted through the hilarious visuals, as the character's faces tell you so much about what's going on. The premise is that the Big Bad Wolf wants to go straight, so he forms a gang of do-gooders, only none of them have any idea how to be good. It's a brilliant mix of slapstick and deadpan humour.
---
The books my daughter loved best of 2015
My daughter's reading profile: an early reader, confident, but inclined to reject anything I recommend (and fair enough, too). For her 11th birthday I gave her the much-wanted Hunger Games trilogy, which she adored, but mostly she's choosing books from the Middle Fiction shelf rather than Young Adult. She has a severe case of FOMO (fear of missing out) so her interests are broad.
---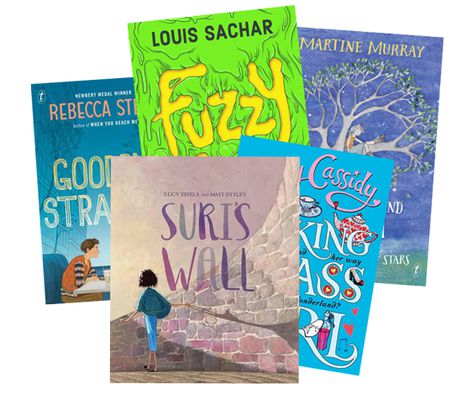 Goodbye Stranger is everything I want to tell my daughter about those tricky pre- and early-teen years - mostly about friendship – that she probably doesn't want to hear from me. Evidently, she loved hearing it from Rebecca Stead through her very well-drawn characters. It's the third book of Stead's that I've loved, and my favourite of the three, but it was the first for my daughter and since reading it she's enjoyed the audiobook version of Stead's bestselling When You Reach Me. If your child is at that in-between stage with Middle and YA fiction, I highly recommend this author.
Although I didn't read The Looking Glass Girl – inspired by Alice in Wonderland – I set my daughter off on her Cathy Cassidy adventure two years ago with Dizzy, and since then she's read every single book by this author, re-read several of those, and shared them with her friends. Obviously I like to remind her regularly that she wouldn't even have heard of Cathy Cassidy if it weren't for me.
Time for a role reversal: two years ago my daughter came home from school and said, "You have to read Holes, Mum, you just have to". I didn't regret it. Louis Sachar's bestselling novel is one I've since recommended to so many 9- to 13-year-olds. Fuzzy Mud is by the same author and at first I was nervous that it wouldn't live up to Holes. Luckily, it has many of the same qualities. If you're looking for a story about friendship that is more likely to appeal to tween boys too, this is it. There's an interesting but not heavy-handed environmental message, and a touch of gross-out.
I did worry that my Hunger-Games-devouring daughter would look at Martine Murray's Molly and Pim and the Millions of Stars, and dismiss it as being too young for her… So I used an old trick – "Do me a favour and just read the first chapter and tell me what you think" – and didn't see her for dust after that. Personally, I cried buckets reading this book (over the mother-daughter relationship) but that's just my tragic adult perspective. My daughter loved the magical realism, the platonic friendship between Molly and Pim, the lyrical writing and the happy ending.
Being interested in art, I was certain my daughter would fall for Suri's Wall by Lucy Estela and Matthew Ottley. To my delight, she actually gasped when I brought it home. With its cloth cover and exquisite pallet, it's really appealing to the slightly older picture book fan. My daughter loved Suri's character and, as an eldest sibling who knows the value of protecting little ones from the big bad truth, I think she identified with her on that level. It's a subtle, emotional and hopeful, picture book.
---
Emily Gale has worked in children's book publishing in a number of roles: editor, reader for a literary agent, and book buyer. Her new novel, set in London and Melbourne, comes out next year with Penguin Random House.