Fiona McGregor
Christos Tsiolkas, much-loved author of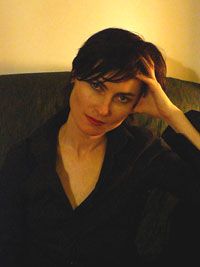 Indelible Ink
, is Marie, a divorced grandmother in North Shore Sydney who one day drunkenly wanders into a parlour and demands a tattoo. From this startling premise we are introduced to Marie's children, to her friends, to a brutally and lovingly detailed world of Sydney bourgeois society. From the first burst of ink flowing from the tattooist's needle underneath Marie's skin, she experiences the beginning of a liberation that will lead to a reconsideration of the meaning of family, of affluence, of the very meaning of being a woman in contemporary Australian society.
Marie is astoundingly human and engaging, naïve but alive, an Australian character who is as powerfully communicated as the Edith of Frank Moorhouse's Grand Days or the Australian women lost in the 'old world' in Patrick White's novels. She is a character who sticks to you long after the reading; she becomes a friend. I asked Fiona who the inspiration for Marie was.
'She was inspired by a woman I met twice, from the lower north shore, mother of six or seven children. I knew her eldest daughter. Years after I met this woman, I heard she had divorced, fallen into heavy drinking and gotten tattooed. Then she died. This was in the early nineties and the transgression and courage and pathos of the story fascinated me. Of course, when I sat down to write it, I realised I didn't know her at all, and had to make it all up … the tree does not resemble the seed.'
The love of words and a playful, irreverent game with language has marked McGregor's work from her first novel, Au Pair, and in the short story collection, Suck My Toes. Her talent seemed self-evident at the time but her youth, her gender and her toughness saw her work caught up in the marketing spin-cycle called 'grunge'. In retrospect it might seem that 'grunge' was not coined to identify something new in Australian literature but rather to corral and quarantine this 'something new' from the world of Aus. Lit. proper. It wasn't literature that was to prove a safe haven for McGregor. One escape – and not only an escape, but also a renewal – proved to be the Dionysian ecstasy of queer celebration (which she writes about in her novel chemical palace). Another was the challenging of her body and its limitations/possibilities through body-based performance art works: the spilling of blood, both literal and metaphorical; endurance; the blurred lines between suffering and exaltation, ritual and performance, these have all been explored in McGregor's increasingly sophisticated performances. I asked her how the knowledge she gained from these works influenced the writing of Indelible Ink.
'I've been making performance art for almost 20 years now. First in the more theatrical, burlesque area and now with pared-down, conceptual, body-based endurance performance. That gamut has influenced my writing both stylistically and in what I've learnt about discipline in craft. It's helped me understand the distillation of ideas: how to stoke them into a fully realised work. People are often agog at what I put myself through in my performances, but I consider that sort of duress to be nothing next to the long dark slog of writing a novel.'
'Apart from enriching my writing as a practice, being body-based, performance art has given me a lot of knowledge that I guess could be classed roughly as medical/biological/anthropological. I've worked a lot with the breaching of the skin — there is something quite shamanistic about that sort of performance. It taps into traditions much more ancient than writing, and is global. It is so vividly human, it is like hydrochloric acid on that membrane that can grow between a writer and the world. I need that, because I can be solitary and anti-social. I need to get my hands dirty. Performance gives me humanity, and writing is nothing without humanity.'
Her answer resonated strongly with me. I am not a performer at all but I have worked in theatre and found that in studying actors and their craft, their immersion into character, I was able to break a prejudice I had in my own head that writing was somehow only cerebral and cleaved from the actual physical body. What actors taught me was that imagination is not only resident in the mind; characters and stories can also emerge from the body.
Two years ago McGregor wrote a splendid non-fiction book called Strange Museums, a record of her time touring Poland as a performance artist with Ana Wojak. Strange Museums is a memoir and a history, an education on art and performance, and what strikes the reader is the manifest joy, confidence and maturity in the writing. If it weren't for the fact that so many of us here on this (over) sun-drenched continent have cloth ears, the book should have been celebrated in every literary page of our newspapers, on every book show on radio and television. It indicated that we can write out of ourselves, that our Australian language and consciousness allows for possibility, not only limitation. Clearly her work as a performer is central to thematic and narrative drive of the book, but also to its expression.
'Writing non-fiction helped unlock things like that. Strange Museums was a blissfully easy book to write. Weirdly, I am much more confronted emotionally by fiction than non-fiction. And I'm not a fudger in my non-fiction – it's straight up. My can of Catholic worms was opened by Strange Museums and I found so much humour in there that helped with the anger and fear. It was also the first book I finished and felt fully satisfied with, so I gained confidence in myself as a writer.'
The critical eye that I think McGregor gained through her working on her performances and on Strange Museums has allowed her to unselfconsciously gaze upon the contemporary Australian world and write, in Indelible Ink, what has been sorely lacking in our literature: a the-way-we-live-now novel that explains ourselves to ourselves. She does this nakedly, honestly, intelligently, abrasively, satirically, humanely. Through tattooing herself Marie tears a rent through the safe, cosseted and indulged world of her middle-class family and friends. Through it, we see the anxieties and fears that really animate us, as well as the possible ways through which we can honestly liberate ourselves. I ask Fiona how conscious she was of writing a novel about, let's call them, 'the Howard Years'.
'You know I'm sadly not well enough read to judge what Australian fiction is doing now as compared to before. I think I myself have shied away from class – although I've always written about family – because middle-class white Australia (which I come from) is the most fervent believer in the myth of egalitarianism. It's very hard to own one's privilege. I think the great weeping wound of this country is the genocide and war that have still not been fully recognised. Why isn't there a four-metre-high statue of Pemulwuy on the Hume Highway? Instead we have giant prawns for god's sake. We can't admit how rich we are because we're guilty about how we got it.'
'For me, living in Sydney through the Howard and Carr eras were my starkest lesson in what occurred here – the heartbreaking destruction of our Dionysian spirit. The relentless price hikes and policing and regulation. The meanness of spirit all that induces. I wrote the last drafts of this book in Berlin which I think must be one of the freest places in the world. I could see from there how tightly controlled in Australia we have become, especially in Sydney. The tyranny of the Stasi was based on such petty things. I saw so many disturbing parallels with what is happening in Sydney and Australia.'
I tell her that I could see, smell, see, touch, hear Sydney when I read Indelible Ink. For a Melburnian such as myself, it is a novel I have been waiting for, one that can literally possess me and guide me through a city I think I know but I don't really. I wonder how important a sense of place is for her writing.
'Central. Alice Munro called herself an anachronism because she's a writer of place. Not true. She's a living genius and it's gratifying to see that being recognised. I'm a believer in cultural custodianship. I love the intellectual and spiritual belief system of indigenous Australia – what I understand of it anyway. It's very simple common sense. You are born into something and you take care of it according to your craft, your talent. Sydney is my flesh and blood, it's been central to nearly all my books. I grew to hate it over the years, and to feel alienated by it. But after ten months away, I'm so looking forward to coming home to Sydney, I feel like weeping. Even while I gnash my teeth I crave it like a lost lover. I poured all that love and all that hate into the book – I owed it to Sydney to write it at its worst too. It's just my Sydney, mind you – who knows if it will resonate with others? I hope it does.'
It does. It really does. In Indelible Ink McGregor proves herself to be one of our cultural custodians. I am happy to be in her hands. The book feels like it has been a long-time coming and it is absolutely what we have waited for. I'll keep it simple: it's a tremendous book. I loved it.