The F Team
Rawah Arja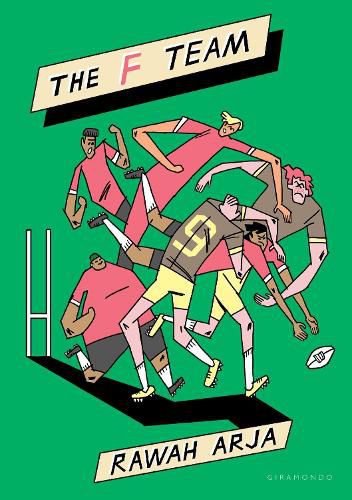 The F Team
 Shortlisted for the Readings Young Adult Book Prize 2021
Meet Tariq Nader, leader of 'The Wolf Pack' at Punchbowl High, who has been commanded by the new principal to join a football competition with his mates in order to rehabilitate the public image of their school. When the team is formed, Tariq learns there's a major catch - half of the team is made up of white boys from Cronulla, aka enemy territory - and he must compete with their strongest player for captaincy of the team.
At school Tariq thinks he has life all figured out until he falls for a new girl called Jamila, who challenges everything he thought he knew. At home, his outspoken ways have brought him into conflict with his family. Now, with complications on all fronts, he has to dig deep to control his anger, and find what it takes to be a leader.
In confronting and often hilarious situations, Tariq's relationships with his extended Lebanese family and his friends are tested like never before, and he comes to learn that his choices can have serious consequences.   
Review
Tariq Nader is lucky enough to have a close group of friends in his life – dubbed 'The Wolf Pack' – but his under-resourced high school is struggling. Constant negative media attention has whipped up suspicions that Punchbowl High is, in Tariq's words, 'too terroristy'. A new principal, Mr Archie, is hired in a last-ditch attempt to avoid closure, but his tough disciplinary style leaves Tariq, Ibby, PJ and Huss unimpressed. The four boys are required to participate in a rugby competition that teams them up with students from Cronulla, and the resulting culture clash changes the boys forever.
The F Team is a funny, moving debut novel with a large cast of complex characters who are each battling their own hidden vulnerabilities. Protagonist Tariq is a gem; a natural leader with fabled 'potential', who also has a knack of constantly disappointing the adults around him. The Wolf Pack struggle to control their anger, to admit their problems to each other, to submit to authority, to be sensitive to other's feelings, but they're also responsible and loving family members, faithful to their religion, loyal and ultimately very caring. Rawah Arja has painted such a lively, affectionate and hilarious portrait of Tariq's Lebanese–Australian Muslim family and the broader Punchbowl community, not to mention the secret teenage world of pranks, revenge, rivalries, crushes and teasing.
The F Team depicts perfectly the hard work of growing up, the incremental moments of change and growth, the surprising forms that lessons come in, and the necessity of taking responsibility for mistakes. It's a truly wild and enjoyable ride; there's a hellish boot camp, slam poetry, budding romance, organic honey, viral videos, visiting Aunties, and of course, lots of action on the football field. For ages 13+.
---
Leanne Hall is the children's specialist for Readings online. She also writes books for children and young adults.
This item is in-stock at 4 shops and will ship in 3-4 days
Our stock data is updated periodically, and availability may change throughout the day for in-demand items. Please call the relevant shop for the most current stock information. Prices are subject to change without notice.