Good Money
J. M. Green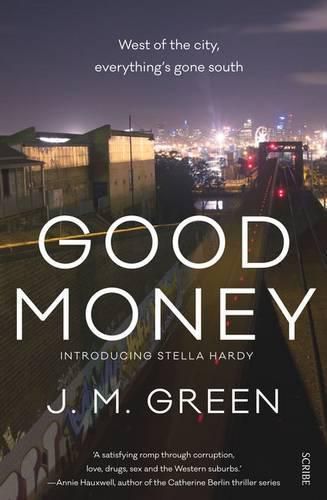 Good Money
Introducing Stella Hardy, a wise-cracking social worker with a thirst for social justice, good laksa, and alcohol.
Stella's phone rings. A young African boy, the son of one of her clients, has been murdered in a dingy back alley. Stella, in her forties and running low on empathy, heads into the night to comfort the grieving mother. But when she gets there, she makes a discovery that has the potential to uncover something terrible from her past - something she thought she'd gotten away with.
Then Stella's neighbour Tania mysteriously vanishes. When Stella learns that Tania is the heir to a billion-dollar mining empire, Stella realises her glamorous young friend might have had more up her sleeve than just a perfectly toned arm.
Who is behind her disappearance?
Enlisting the help of her friend, Senior Constable Phuong Nguyen, Stella's investigation draws her further and further into a dark world of drug dealers, sociopaths, and killers, such as the enigmatic Mr Funsail, whose name makes even hardened criminals run for cover.
One thing is clear: Stella needs to find answers fast - before the people she's looking for find her instead.
Set in the bustling, multicultural inner-west of Melbourne, Good Money reveals a daring and exciting new voice in Australian crime fiction.
Review
This time is an unfair part of the year for picking my Book of the Month. When confronted with Gentill, Disher, Rankin, Galbraith and more, somehow I'm supposed to make a decision? Of course, like you, dear reader, I'm just going to gather all the November titles into a big pile of happiness, hug them to my chest and make no plans for the next few weekends. And along with those delicious favourites, why not dig into a debut novel, set in Melbourne's west and introducing a main character with an arresting personality (and an excellent surname, if I do say so myself) in social worker Stella Hardy?
Hardy is called to a client's house early one morning, finding a family in mourning over the death of teenager Adut Chol. She does all she can to ease their grief, until a discussion with the dead boy's brother, Mabor, leads to a discovery that stops her in her tracks – her home address in Adut's notebooks. Stella knows this can only mean he knows about the one thing Stella can't forgive herself for. As she tries to find out how much Adut knew, her friendly new neighbour goes missing, her errant brother returns to insinuate himself in her life, a handsome artist asks for her number, Mabor makes some godawful friends, and the next thing she knows she is being escorted by limousine to luxurious apartments to chat with high-profile business moguls connected to shifty mining practices. All of this without her old pal, cop Phuong Nguyen, to help her out – unless they both decide to let go of the past and take hold of the future with a touch of make-up breaking-and-entering.
Stella is wonderfully likeable – determined but as easily sidetracked as the rest of us, be it by the internet (guilty) or handsome artists (also guilty). She is sometimes hopeful and sometimes bitter about the world, her friends, and her family; as an outsider everywhere, she is full of scathing remarks about people but willing to be called out on it. This is a powerhouse debut, full of excitement, jokes, brutality and scenic flights over Australia's dangerous red centre, and the very bad use of very good money.
---
This item is not currently in-stock. It can be ordered online and is expected to ship in 3-5 days
Our stock data is updated periodically, and availability may change throughout the day for in-demand items. Please call the relevant shop for the most current stock information. Prices are subject to change without notice.