The Strays
Emily Bitto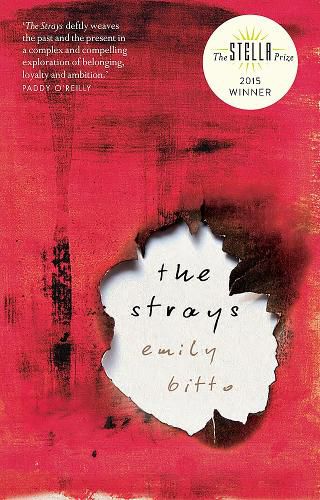 The Strays
In The Strays, Evan Trentham is the wild child of the Melbourne art world of the 1930s. He and his captivating wife, Helena, attempt to carve out their own small niche, to escape the stifling conservatism they see around them, by gathering together other like-minded artists. They create a utopian circle within their family home, offering these young artists a place to live and work, and the mixed benefits of being associated with the infamous Evan.
At the periphery of this circle is Lily Struthers, the best friend of Evan and Helena's daughter Eva. Lily is infatuated by the world she bears witness to, and longs to be part of this enthralling makeshift family.
As Lily observes years later, looking back on events that she still carries painfully within her, the story of this groundbreaking circle involved the same themes as Evan Trentham's art: Faustian bargains and terrible recompense; spectacular fortunes and falls from grace. Yet it was not Evan, nor the other artists he gathered around him, but his own daughters, who paid the debt that was owing.
The Strays is an engrossing story of ambition, sacrifice and compromised loyalties from an exciting talent.
Review
Emily Bitto's debut novel, The Strays, is a compulsively readable story of the 1930s Australian art scene, parental narcissism and female friendship. The title refers to the community of artists whom Evan and Helena Trentham gather around themselves at their spacious and rambling home. The narrator, Lily, is one of these strays. At school, she bonds instantly with the Trenthams' middle daughter, Eva, and they become inseparable.
The Trenthams' life offers Lily what she doesn't have in her own home – she is the only child of conservative, reserved parents – and she loves the freedom, the parade of interesting people, and the sense of belonging, though tenuous, provided by Eva and her sisters, Beatrice and Heloise. Lily is an outsider and as such she is a wonderful narrator – embroiled but not too emotionally involved. She listens to the artists' talk of radical politics and their criticism of the conservative Australian art scene. She is present at the dinner when Evan and Helena announce they are opening their house and studios for other artists to live and work in. This is something they haven't consulted their daughters about, and is yet another indication that the adults' needs come first.
As Lily grows older, she begins to understand the effect this neglect has on the Trentham daughters. In one episode, Eva desperately wants to do something unique for her fourteenth birthday, which she shares with her father (and as Evan reminds her, three quarters of his name), but nothing separate is organised. And while Eva is at least able to put a voice to her resentment, it is Heloise, the youngest Trentham, who bears the brunt of the chaotic household – to devastating effect.
The fallout that occurs is inevitable and the reader is waiting for it, yet Bitto still manages to surprise. I really enjoyed this book, particularly its portrayal of long-term female friendships, betrayal and forgiveness.
---
This item is in-stock at 5 shops and will ship in 3-4 days
Our stock data is updated periodically, and availability may change throughout the day for in-demand items. Please call the relevant shop for the most current stock information. Prices are subject to change without notice.