The Goodbye Year
Emily Gale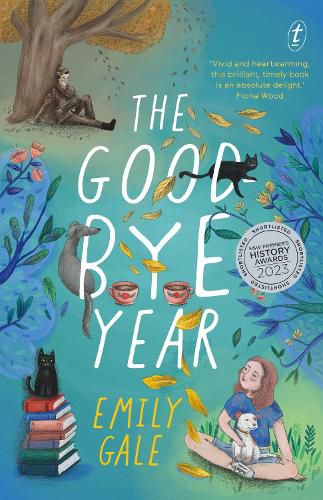 The Goodbye Year
It's the start of 2020 and Harper is filled with anticipation about being in the final year of Riverlark Primary. She wants a leadership role, the comfort of her friendship group, and to fly under the radar of Riverlark's mean-boy. But one by one things go wrong. When Harper's best friends are made school captains they are consumed by their roles, while her own role - library captain - is considered second-rate.
Then something major throws life off course: her parents take overseas jobs as nurses in a war zone. Harper moves in with Lolly, a grandmother she barely knows - and her five pets, vast collection of old trinkets and very different expectations. Just as Harper is getting used to Lolly, the pandemic arrives, and her goodbye year is nothing like she'd hoped it would be.
Strange things are happening: she wakes in the night in odd places, fixates on an old army badge that seems to have a mind of its own, and on a visit to the school library during lockdown she's convinced she's seen a ghost. Who is haunting her? Can she get through the anxiety of the pandemic without her mum and dad? And will Harper find a way to be happy with her goodbye year?
The Goodbye Year explores all the trickiness and confusion of the end of primary school and a new stage of life that looms with all its uncertainties and possibilities.
Review
Harper is excited about her final year of primary school, but nothing is working out the way she hoped. Her nurse parents travel to Yemen for work and she has to stay with a grandma she barely knows. Her school friends have been given time-consuming leadership roles and even befriend the class bully. Finally, the pandemic is all over the news and changing their lives in radical ways.
Harper finds an old badge for cadets and notices that strange things seem to happen when she has it. One day, she sees a ghost in the school library and comes to realise that the badge and the ghost are somehow connected. The ghost is a boy in uniform and he needs her help.
This is a sweet, gentle story about friendship, family and about making sense of your world when everything is changing. It's also about discovering the past and noticing its connection to your present. Highly recommended for ages 10+.
Angela Crocombe is a senior children's book buyer at Readings.
This item is in-stock at 4 shops and will ship in 3-4 days
Our stock data is updated periodically, and availability may change throughout the day for in-demand items. Please call the relevant shop for the most current stock information. Prices are subject to change without notice.