Guardians (Wylah the Koorie Warrior, Book 1)
Jordan Gould,Richard Pritchard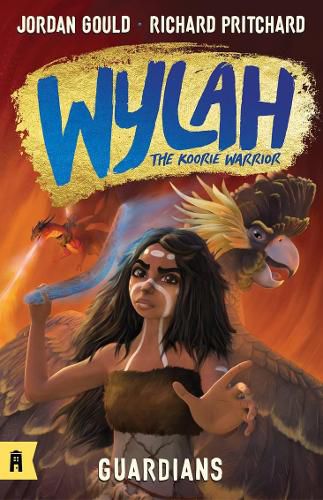 Guardians (Wylah the Koorie Warrior, Book 1)
Shortlisted for the Readings Children's Prize 2022
Wylah is brave, clever and strong-willed, and all her best friends are giant megafauna animals. 
But she isn't a warrior. Not yet, anyway.  Then comes the day when her family is stolen by the dragon army, and her life is forever changed. She must find the courage to set out on a journey to save them. 
What will it take for Wylah to become a warrior, like her Grandmother before her?   
Introducing an unforgettable cast of characters, Wylah: The Koorie Warrior is a heart-stopping and imaginative adventure, inspired by First Nations history and grounded in culture.
Review
What started out as an exciting day for Wylah – her first day teaching her village's little ones how to do cave paintings – ends dramatically when she's caught in a cave-in with one of the children, Po. When Wylah emerges, she finds her village on fire and almost all her people taken by dragons. Her injured grandmother, herself a famous warrior, gives Wylah her boomerang and instructs her to gather the five Guardians to help save the village. The brave Wylah sets off on her quest with the help of Po and her myriad rescued animals including Turrit – a swamp cow, an animal also known as a diprotodon.
Written by Peek Whurrong man Jordan Gould and New Zealand Samoan man Richard Pritchard (who also did the illustrations) Guardians: Wylah the Koorie Warrior is a deliciously exciting fantasy novel balanced out with very real snapshots of life in Australia 40,000 years ago. Almost every page has footnotes explaining details about the culture or the language depicted, meaning this book will not just appeal to fantasy lovers, but also to children who love to read and recite facts – I know I've come out of it a very entertained and more educated reader and I am deeply excited for the rest of the series. I strongly recommend this illustrated novel for all kids, especially those ages eight and up.
---
Dani Solomon is the manager of Readings Kids
This item is in-stock at 7 shops and will ship in 3-4 days
Our stock data is updated periodically, and availability may change throughout the day for in-demand items. Please call the relevant shop for the most current stock information. Prices are subject to change without notice.