The Book of Form and Emptiness
Ruth Ozeki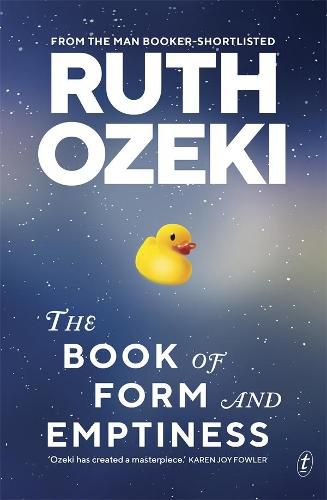 The Book of Form and Emptiness
Winner of the 2022 Women's Prize for Fiction
After his father dies, Benny Oh finds he can hear objects talking: teapots, marbles and sharpened pencils, babbling in anger or distress. His mother, struggling to support their household alone, starts collecting things to give her comfort. Overwhelmed by the clamour of all the stuff, Benny seeks refuge in the beautiful silence of the public library.
There, the objects speak only in whispers. There, he meets a homeless poet and a mesmerising young performance artist. There, a book reaches out to him. Not just any book: his own book. And a very important conversation begins.
The Book of Form and Emptiness is about grief, resilience, creativity and psychological difference. It is about the importance of reading, and an observation of the mess consumer culture has got us into. It is an affirmation of the power of community. It is funny, kind, wise, urgent and completely irresistible. If you let it-if you listen-it could change your life.
Review
Benny Oh has lost his father in a terrible accident. Shortly afterwards, something peculiar happens to the grief-stricken teenage boy: he starts to hear objects speaking. Snow globes, scissors, windowpanes, baseball bats and teapots all keep up a constant hum of conversation, vying for his attention. Pretty soon, these objects start imploring him to take action, sometimes even in destructive ways. Meanwhile, his mother Annabelle is struggling to cope without her husband and with the increasing pressure of taking care of Benny. She begins hoarding, looking for comfort and solace in objects, the very same objects that are causing so much distress to her son.
Looking for sanctuary from the barrage of voices, Benny skips school and finds refuge in the public library, where the objects speak in whispers. At the library, Benny meets a homeless poet, a strange and enchanting young performance artist, and a very special book – the book that is narrating his life. At home, his mother also encounters a life-changing book, written by a Marie Kondo-esque, Japanese monk that will force her to confront her own grief.
The Book of Form and Emptiness is a strange and compelling novel about loss, creativity, difference, and the power of the written word. Ozeki masterfully moves from whimsy to beauty to darkness and back again. I often did not know whether to laugh or to cry (and, admittedly, did both).
My one criticism would be that the book ties itself up a bit too neatly at the end. This, however, does not take away from the sheer pleasure of reading this novel. It is the kind of book you get lost in for days or, considering its length at 550 pages, even weeks. Ozeki's latest is a challenging, rewarding and unexpected work that is bound to crop up on many 'best of' lists at the end of the year.
---
Tristen Brudy is a bookseller at Readings Carlton.
This item is not currently in-stock. It can be ordered online and is expected to ship in 3-5 days
Our stock data is updated periodically, and availability may change throughout the day for in-demand items. Please call the relevant shop for the most current stock information. Prices are subject to change without notice.