No Words
Maryam Master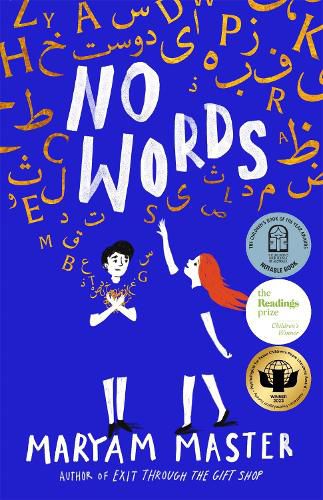 No Words
Winner of The Readings Children's Prize 2023
Hero doesn't feel like a hero, but sometimes she feels as if the universe is asking her to be one. When Aria, a mysterious boy who never EVER speaks, starts at school and is picked on by His Royal Thug-ness Doofus (Rufus), Hero and her bestie Jaz feel compelled to help. But they're far too chicken to actually do anything heroic, so they befriend Aria and try to uncover the truth about him. What happened to his voice? Where did he come from? What are those three dents on his middle finger?
This is the story of a 12-year-old refugee who's trying to establish a new life in Australia, grapple with his past and, most importantly, find his voice. 'Cos, boy, does he have a story to tell.
Review
I adored Maryam Master's previous CBCA-shortlisted novel Exit Through the Gift Shop, so I had high hopes for her latest creation, No Words. Tackling challenging topics such as mental health, bullying and the experiences children face as refugees, No Words is quite a personal story for Master to share. It takes inspiration from her own experiences growing up in Iran and being forced to flee to Australia at the age of nine.
Through Master's protagonist Aria, we are given a small glimpse into what being a refugee is like. We see his interactions with his schoolmates, Hero and Jaz, conflicts with the local bully Rufus, as well as flashbacks to his life in Iran. As Aria grapples with setting up a new life, he is also trying to process moments from his past that were so traumatic they caused him to lose his words and become mute.
Written with hope, compassion and wit, this book and its characters teach some important lessons about supporting and caring for those around you. It is a reminder that you can't know the difficulties others are dealing with or how much your kindness might help them soar. For ages 7+.
---
Claire Atherfold is the manager of Readings State Library
This item is in-stock at 8 shops and will ship in 3-4 days
Our stock data is updated periodically, and availability may change throughout the day for in-demand items. Please call the relevant shop for the most current stock information. Prices are subject to change without notice.