Nightbirds
Kate J. Armstrong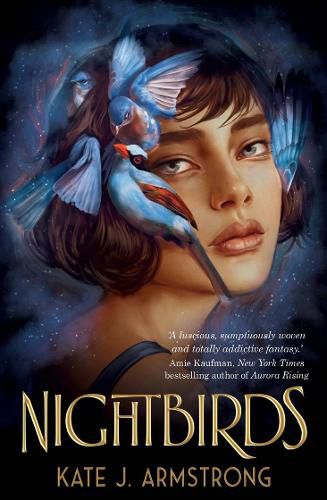 Nightbirds
In a dazzling new fantasy world full of whispered secrets and political intrigue, the magic of women is outlawed but three girls with unusual gifts have the chance to change it all.
Magic may be illegal in Simta, but you can find it if you know which whispers to heed. None as tantalising as the ones about the Nightbirds, Simta's best kept secret. These privileged girls have the ability to gift their magic to others with a kiss – something the church would have them killed for. But protected by the Great Houses, their identities safe behind masks, the Nightbirds are well-guarded treasures.
Matilde, Æsa, and Sayer spend their nights bestowing their unique brands of magic to well-paying clients. But this Season's Nightbirds find themselves at the heart of a political scheme that threatens their secrets and their safety. When they discover that their magic is far more than they were ever told, they see the carefully crafted Nightbird system for what it is: a gilded cage.
Now they must make a choice – to remain kept birds or take control, remaking the city that dared to clip their wings.
Filled with sumptuous, cinematic writing and dazzling details, Nightbirds is a fiercely feminist fantasy debut where the most potent magic lies not in a kiss, but in the truth.
Review
In Simta, magic is illegal. Especially magic created by women. But the great houses have a secret: three girls – Matilde, Aesa, and Sayer – are known as 'the Nightbirds'. Each has their own magical power that they can gift to others with just a kiss. But they cannot use their magic themselves. Or so they were told. Everything changes the night men come to steal the Nightbirds. It is then that the three girls begin to untangle all the lies they've been told and discover just how powerful they really are.
Firstly, I want to take a moment to appreciate just how beautiful the cover artwork is. I knew I had to read it immediately. Secondly, there's not one, but two maps! I just love a book with a map and these are stunning.
Much like the cover, the world Kate J Armstrong has created is vibrant and engaging. Although the pace is gentle for a lot of the book, the magic system and characters are well thought-out and fully developed. There are a lot of themes explored, including family dynamics, first love, female bonds, and politics, but overall, Nightbirds is about women fighting the patriarchy and standing up for what is right.
The final page ends with 'to be continued', leaving the reader excited and curious about what will happen in the next instalment. This is a strong #LoveOzYA debut, perfect for fans of Astrid Scholte and Vanessa Len. For ages 14+.
This item is in-stock at 4 shops and will ship in 3-4 days
Our stock data is updated periodically, and availability may change throughout the day for in-demand items. Please call the relevant shop for the most current stock information. Prices are subject to change without notice.