Two Can Play That Game
Leanne Yong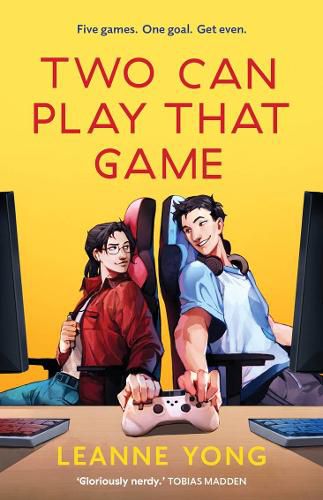 Two Can Play That Game
Sam Khoo has one goal in life: create cool indie games. She's willing to do anything to make her dream come true - even throw away a scholarship to university. All she needs is a super-rare ticket to a game design workshop and she can kickstart her career.
So when Jay Chua, aka Jerky McJerkface, sneakily grabs the last ticket, it's war. Knowing how their Australian-Malaysian community works, Sam issues him an ultimatum: put the ticket on the line in a 1v1 competition of classic video games, or she'll broadcast his duplicity to everyone. Thank you, Asian Gossip Network.
Meeting in neutral locations, away from the eyes and ears of nosy aunties and uncles, Sam and Jay connect despite themselves. It's a puzzle that Sam's not sure she wants to solve. But when her dream is under threat, will she discover that there is more than one way to win?
Review
Sam Khoo's ultimate dream is to make cool indie games for a living. And she is going to make that dream a reality. But first, she needs to get her hands on a super-rare ticket to a game-design workshop. But Jerky McJerkface, aka Jaysen Chua, plays dirty and nabs the last ticket. Sam will not go down without a fight, and threatens Jaysen with the 'Asian Gossip Network'. He must either accept her challenge of a one-to-one competition of classic video games or she'll broadcast just how conniving he is to the Australian-Malaysian community.
Despite not having much interest in games other than The Sims, I was drawn into Sam's world and was captivated by her passion. (I did skim over some of the game play descriptions though!) Sam's constant battle between the desire to chase her passions and the parental and societal pressures to go to university then get a good job is incredibly relatable.
As much as I adored Sam, I related a lot more to Eva – the younger sister who is always in the shadow of the over-achieving older sibling. Through the two sisters, Leanne Yong brings to life a memorable combination of sibling rivalry mixed with fierce love and the need to protect each other at all costs. I absolutely loved Sam and Eva's relationship.
This incredible Australian debut is a hilarious, heartwarming story of family, Australian-Malaysian culture, friendship and first love. You will not be able to put this book down. The best part? It's an enemies to friends to lovers tale – my favourite trope! This book is perfect for fans for The Surprising Power of a Good Dumpling and Tiger Daughter. I cannot wait to read more from Yong. For ages 15+.
This item is in-stock at 6 shops and will ship in 3-4 days
Our stock data is updated periodically, and availability may change throughout the day for in-demand items. Please call the relevant shop for the most current stock information. Prices are subject to change without notice.