Late Bloomer: How an Autism Diagnosis Changed My Life
Clem Bastow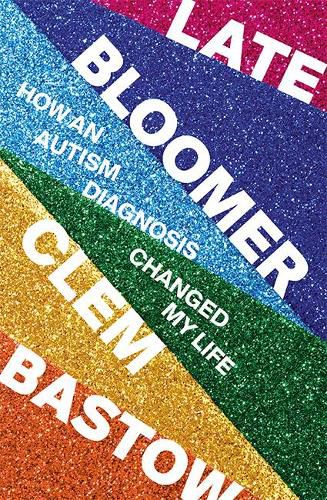 Late Bloomer: How an Autism Diagnosis Changed My Life
Introducing a bold new voice in Australian nonfiction, Late Bloomer is a heartfelt coming-of-age memoir that will change the way you think about autism.
Clem Bastow grew up feeling like she'd missed a key memo on human behaviour. She found the unspoken rules of social engagement confusing, arbitrary and often stressful. Friendships were hard, relationships harder, and the office was a fluorescent-lit nightmare of anxiety. It wasn't until Clem was diagnosed as autistic, at age 36, that things clicked into focus.
The obsession with sparkly things and dinosaurs. The encyclopaedic knowledge of popular music. The meltdowns that would come on like a hurricane. The ability to write eloquently while conquering basic maths was like trying to understand ancient Greek. These weren't just 'personality quirks' but autistic traits that shaped Clem's life in powerful ways.
With wit and warmth, Clem reflects as an autistic adult on her formative experiences as an undiagnosed young person, from the asphalt playground of St Joseph's Primary School in Melbourne to working as an entertainment journalist in Hollywood. Along the way she challenges the broader cultural implications and ideas around autism, especially for women and gender-diverse people. Deconstructing the misconceptions and celebrating the realities of autistic experience, Late Bloomer is as heartbreaking as it is hilarious, and will stay with you long after the reading.
Review
Throughout her life, Clem Bastow went through periods of intense obsession with dinosaurs, musical theatre and professional wrestling. Fresh out of school, she threw herself into music journalism and feature writing, outpacing just about every other freelancer on the scene. The unwritten rituals of contemporary dating were an anxiety- inducing nightmare. Like many undiagnosed autistic women, Bastow absorbed the rules of neurotypical behaviour and learned to perform them as a coping mechanism. The stress of this 'masking' resulted in cycles of burnout and meltdown until, at age 36, Bastow was diagnosed as autistic. This diagnosis clarified her past and changed her present. It also brought into being this moving, highly readable memoir. 'Memoir' only describes part of the story, though. It's also a finely researched history of autism and its diagnoses, a passionately argued piece of advocacy, and a hilarious nostalgia trip through Melbourne in the early 2000s.
Towards the end of Late Bloomer, Bastow articulates what feels like a thesis statement for the book: 'To me, the past isn't a foreign country so much as it is a parallel dimension that exists alongside my current reality.' It's a well-timed epiphany, as it aptly describes the narrative structure and emotional journey the reader has experienced over the course of the memoir. Only a writer with Bastow's warmth and intelligence could stitch together seemingly disparate topics (such as the dark history of autism diagnosis or the life-affirming dependability of a McDonald's cheeseburger) into a satisfying narrative whole. But I took this as precisely her point: there are no disparate topics in her experience of autism. Childhood memories, vivid sense impressions and movie quotes interweave and inform one another, revealing the wisdom and humour that furnish Bastow's internal world. An insightful and moving debut.
---
Michael Skinner is a bookseller at Readings St Kilda.
This item is in-stock at 4 shops and will ship in 3-4 days
Our stock data is updated periodically, and availability may change throughout the day for in-demand items. Please call the relevant shop for the most current stock information. Prices are subject to change without notice.