Are You Seeing Me?
Darren Groth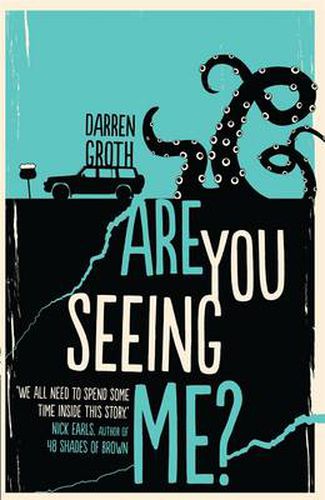 Are You Seeing Me?
This road trip will have earth-shattering consequences …
Twins Justine and Perry are about to embark on the road trip of a lifetime in the Pacific Northwest. It's been a year since they watched their dad lose his battle with cancer. Now, at only nineteen, Justine is the sole carer for her disabled brother. But with Perry having been accepted into an assisted-living residence, their reliance on each other is set to shift. Before they go their separate ways, they're seeking to create the perfect memory.
For Perry, the trip is a glorious celebration of his favourite things: mythical sea monsters, Jackie Chan movies and the study of earthquakes. For Justine, it's a chance to reconcile the decision to 'free' her twin, to see who she is without her boyfriend, Marc - and to offer their mother the chance to atone for past wrongs. But the instability that has shaped their lives will not subside, and the seismic event that Perry forewarned threatens to reduce their worlds to rubble …
'A funny and beautiful story about love, life and other disasters, told with the help of Robinson Crusoe and Jackie Chan. I think what we're seeing here is a writer at the top of his game. Just wonderful.' MICHAEL GERARD BAUER, author of The Running Man
Review
Reading Are You Seeing Me?, I felt myself wanting to reach out and hug every character, tightly, the whole way through. The experience made my heart hurt in a special way. The story follows 20-year-old twins Justine and Perry as they spend their last days left together holidaying, before Perry moves into supported living.
Perry has a disability: a form of brain disorder that makes it very difficult for him to relate to people and makes him behave inappropriately at the best of times. Instability is a constant in the twins' lives. Their mum upped and left before they were out of nappies and their dad died during their teens, leaving Justine as Perry's sole carer. They each crave their own kind of independence but are terrified at the cost of leaving the other. This holiday is their final shot at creating the best of times together and enough memories to keep them going.
I developed a soft spot for Perry early on in the book. Maybe it was his Jackie Chan obsession, or his quirky explanations of how the world works, or his resolute love for his sister. Most probably it was all three and more.
The bond between the twins is tender. Whatever situation they find themselves in, they treat each other with dignity and kindness, and their relationship reminded me of how special the bond between siblings can be.
The story is told from both Justine's and Perry's perspective, and Perry's chapters, in particular, are written with sensitivity and insight. I didn't always understand exactly what his quirks were getting at, but it all somehow felt important by the end. This is mature young-adult writing that doesn't rely on an all-consuming love-interest plot. I think fans of Melina Marchetta (and basically anyone with a beating heart) will love this journey.
A great read for ages 15 and up.
---
This item is not currently in-stock. It can be ordered online and is expected to ship in approx 3 weeks
Our stock data is updated periodically, and availability may change throughout the day for in-demand items. Please call the relevant shop for the most current stock information. Prices are subject to change without notice.