The Jammer
Nova Weetman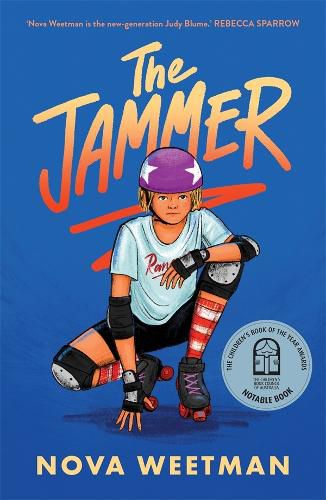 The Jammer
Set against the backdrop of roller derby, The Jammer is a poignant story of broken bones and healing hearts from one of Australia's most popular middle-grade authors, Nova Weetman.    
Fred has moved around her whole life, one small town after another. She never minded starting over because she always had her mum, her dad and her love of roller derby. On the track she was Fred or Dead, the star jammer, a gun at smashing through a line of bodies and scoring for her team. But now Fred's life has fallen apart, and she can't imagine putting her skates on again.
After road tripping to Melbourne with her dad, Fred meets a bunch of people who think they know what's best for her. And although she tries to avoid it, roller derby has a way of barging back into her life. A true jammer could push through anything, but Fred doesn't know who she is anymore. What do you do when the thing that could save you is what hurts the most?
Review
Fred's roller derby kit is at the bottom of the Brisbane River. Fred plays jammer in the sport her mum loved, but since mum passed away it hasn't felt right at all. Fred and her dad travel to Melbourne after the funeral to spend time with people who knew mum. Fred is used to moving around a lot, but in Melbourne, she starts new friendships. Despite her best efforts to renounce it, she feels the call of roller derby once again.
This is an excellent novel about grief, growing up, finding your community and embracing your passions. It's clear that Nova Weetman truly respects and empathises with young people, and she has created some lovely characters here, filling the book with interesting and kind people, such as Sammy who catches mice by the creek and sells them as pets to fund his skating, and Graham, a gentle and observant man who works at an animal shelter and draws a map of Preston to welcome Fred to the neighbourhood.
Weetman's books are perfectly pitched for tweens and adored by readers; I'm certain readers will adore The Jammer too. For ages 10+.
---
Kim Gruschow is the co-manager of Readings st Kilda
This item is in-stock at 6 shops and will ship in 3-4 days
Our stock data is updated periodically, and availability may change throughout the day for in-demand items. Please call the relevant shop for the most current stock information. Prices are subject to change without notice.