Elsewhere Girls
Emily Gale, Nova Weetman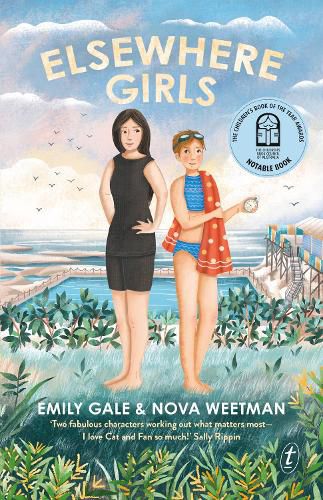 Elsewhere Girls
It's midnight and I'm alone in the kitchen eating a cold potato scallop. Coach O'Call would say something like, 'That's not what I expect from a scholarship girl!' because I have to be up for squad training in five hours and I'm not supposed to go near potato scallops, and-oh, yeah-it's my fifth.
Cat has recently started at a new school on a sports scholarship, and she's feeling the pressure of early morning training sessions and the need for total commitment. Fanny loves to swim and she lives for racing, but family chores and low expectations for girls make it very hard for her to fit in even the occasional training session.
Cat and Fanny have never met. They both live in the same Sydney suburb, but in different worlds, or at least different times- Cat in current-day Sydney, and Fanny in 1908. But one day, time slips and they swap places.
As each girl lives the other's life, with all the challenges and confusion it presents, she comes to appreciate and understand herself and the role of swimming in her own life.
Narrated in alternating chapters by Cat and Fanny, Elsewhere Girls is a moving and funny story of two girls with a deep connection, one based on the Australian Olympic champion, Fanny Durack. It's a fresh and engaging exploration of the challenges and pressures for young women growing up in the past and today.
Review
Separated by more than a hundred years, Fanny and Cat seem strikingly different; Fanny is a passionate swimmer in 1908 who dreams of a future when women can compete in the Olympics, whereas modern-day Cat struggles to find the motivation to train. Yet both are fearless and surrounded by loving supporting families.
When time slips and the two young women switch bodies and centuries, Fanny and Cat have to navigate the realities of each other's world. Suddenly confronted with the challenges of life in 1908, Cat realises that natural talent without passion is unfulfilling, that freedoms should never be taken for granted, and how fortunate she really is. Ultimately, Cat also realises how important her family, especially her sister, is to her. In 2021, Fanny learns how far women have come in 100 years and that she must pursue her dreams because women can do anything. Both of these two brave young women find a renewed sense of self and the confidence to overcome any obstacles.
Inspired by determined real-life women and told in alternating chapters, beloved local Melbourne authors Emily Gale and Nova Weetman intertwine their unique voices to weave this heartfelt, insightful and humorous tale. I loved this wonderful adventure. It's perfect for readers who love a time-slip story with the added twist of a body swap. Highly recommended for ages 10+.
---
Athina Clarke is the children's book buyer at Readings Malvern.
This item is in-stock at 5 shops and will ship in 3-4 days
Our stock data is updated periodically, and availability may change throughout the day for in-demand items. Please call the relevant shop for the most current stock information. Prices are subject to change without notice.