Hot Springs Drive
Lindsay Hunter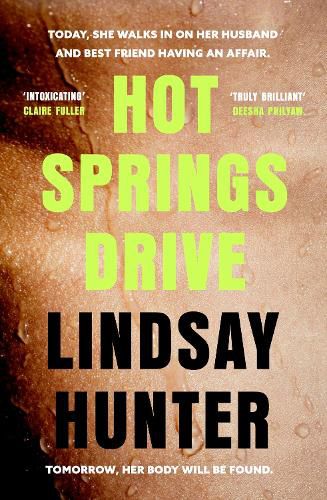 Hot Springs Drive
Today, she walks in on her husband and best friend having an affair. Tomorrow, her body is found.
Seven years ago, Theresa and Jackie meet in a maternity ward. Sleep-deprived new mothers; instant friends.
Then they become neighbours on Hot Springs Drive - a nice street in a nice neighbourhood, filled with flower boxes and emerald lawns.
The story ends like this: in the depths of a sweltering heatwave, Theresa discovers that her husband and Jackie are having an affair. The next day, Theresa's body is found.
The truth lies somewhere between the picket fences and pink blossoms, where friendships twist into tragic jealousies and barbecues hide bed hopping and bloodshed. By summer's end, the residents of Hot Springs Drive will never be the same...
An unputdownable, unmissable, vicious blade of a novel that peels back the fragile veneer of two suburban families and the deadly secrets roiling between them.
Review
Hot Springs Drive is an explosive cocktail of lust, loneliness, and indulgence, all suppressed in a domestic suburban lifestyle. The tragedy occurs when the truth is unearthed.
Jackie and Theresa have been best friends since they first met in the maternity ward. Their lives are inextricably intertwined as their families become inseparable; they soon become next-door neighbours, their children attend the same schools, the mothers vow to go on the same weight-loss program, and they become each other's closest confidants. But this perfect Garden of Eden is interrupted by two irreversible acts: when Theresa walks in on her husband having sex with Jackie, and when Theresa's murdered body is found in her garage the next day. Soon, the families' secrets and darkest desires are brought out into the open, and we are left to question the means by which human desires are satiated, and how much we can trust appearances.
With the salaciousness of Caroline Kepnes' You and the competitiveness of Death Becomes Her, Hot Springs Drive offers a sardonic examination of the American Dream, of the fantasies and hedonism we hide beneath a pure facade, and the darkest crevices of the human soul that are inevitably brought to light. Told from the perspective of each parent and five children, the dramas intended to be kept behind closed doors are exposed in Lindsay Hunter's intense and gripping thriller, exploring the harms of toxic parent-child relationships, the potential for animosity in female friendships – especially in relation to male validation – and the complexities of motherhood and desire. Theresa and Jackie are raw in their fears and anxieties, especially regarding how being a mother has shaped their sense of identity. The thrills and horrors of being a woman are dissected in this titillating and disturbing journey of self-discovery.
This item is in-stock at 4 shops and will ship in 3-4 days
Our stock data is updated periodically, and availability may change throughout the day for in-demand items. Please call the relevant shop for the most current stock information. Prices are subject to change without notice.