Jo Sandhu wins the 2018 Readings Children's Book Prize
We're thrilled to reveal that the winner of this year's Readings Children's Book Prize is Tarin of the Mammoths: The Exile by Jo Sandhu!
Established in 2014, the Readings Children's Book Prize celebrates on-the-rise Australian authors and is awarded to the book that children will love best. Jo Sandhu's captivating and cinematic middle-fiction novel, set 30,000 years ago in Lapland, Finland is a fitting winner. This is an action-packed and unputdownable Stone Age epic for ages 8 to 12 that is guaranteed to have readers on the edge of their seats.
When 12-year-old Tarin is exiled by the Mammoth Clan, he seeks atonement by setting out to deliver an offering to the Earth Mother. He soon meets twins Kaija and Luuka from the River Clan, and the three kids must endure harsh natural elements and escape the clutches of the aggressive Boar Clan to survive their trek across the tundra.
Tarin of the Mammoths: The Exile was chosen by a panel of Readings children's book specialists – including Alexa Dretzke (Readings Hawthorn), Dani Solomon (Readings Kids), Daniella Robertson (Readings Malvern) and myself (Readings St Kilda) – along with our 2018 guest judge, author and editor Davina Bell.
The entire panel were impressed by the arresting environment that Sandhu so deftly created: 'Tarin's icy world is so fully realised and vividly described that I read the entire book while faintly shivering,' says Solomon – with Robertson adding that this transportative quality makes it perfect for reading while safely tucked up in bed. All the judges admired Sandhu's skill at enriching the world with authentic details about the time period, while still maintaining a rip-roaring pace. Guest judge Bell noted that the book was 'steeped in history and mythology' and yet 'felt as fresh and gripping and twisty as an airport thriller'.
Bell also especially admired Sandhu's nuanced characterisation of Tarin, whose twisted foot complicates his travels. She says: 'Tarin is a vulnerable and reluctant hero – and doesn't children's literature (and the world) need many more of those?' Young readers will feel for Tarin as he learns that he has strengths other than those required of a hunter, chief among them determination and resilience.
As the 2018 winner, Sandhu will receive $3,000 in prize money. She says: 'I'm over the moon and thrilled to bits! It's very humbling to think a story I created is thought of so highly, especially in such amazing company! Thank you so much to everyone at Readings for not only awarding me this honour, but for being true champions of Australian books and Australian authors in all stages of their careers. The Readings Children's Book Prize is such a wonderful way to support emerging authors! I would also like to thank the team at Penguin Random House, especially my editor, Katrina Lehman, who held my hand and helped me find the magic in Tarin's story.'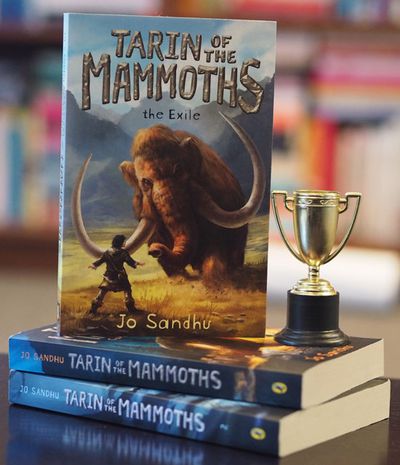 Enthusiastic readers (and their parents) will be pleased to learn that there are two more books continuing Tarin's adventure: Clan of Wolves and Cave Bear Mountain. We're delighted to offer the entire trilogy in a specially priced pack for $39.99 ().
Congratulations again to the five authors who were shortlisted alongside Sandhu: Jessica Townsend (Nevermoor: The Trial of Morrigan Crow); Tamara Moss (Lintang and the Pirate Queen); Matilda Woods (The Boy, the Bird & the Coffin Maker); Jaclyn Moriarty (The Extremely Inconvenient Adventures of Bronte Mettlestone); and, Campbell Whyte (Home Time).
Bell praised this year's shortlist, describing it as 'crackling with originality'. She says: 'It was a privilege to walk alongside these strong and heart–tugging protagonists in such richly imagined worlds, from Finnish tundras to enchanted hotels and villages where fat, silver fish drop from the sky.'
---