The Extremely Inconvenient Adventures of Bronte Mettlestone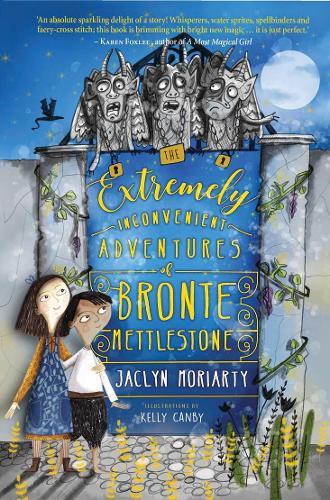 The Extremely Inconvenient Adventures of Bronte Mettlestone
I was ten years old when my parents were killed by pirates. This did not bother me as much as you might think - I hardly knew my parents.
Bronte Mettlestone's parents ran away to have adventures when she was a baby, leaving her to be raised by her Aunt Isabelle and the Butler. She's had a perfectly pleasant childhood of afternoon teas and riding lessons - and no adventures, thank you very much.
But Bronte's parents have left extremely detailed (and bossy) instructions for Bronte in their will. The instructions must be followed to the letter, or disaster will befall Bronte's home. She is to travel the kingdoms and empires, perfectly alone, delivering special gifts to her ten other aunts. There is a farmer aunt who owns an orange orchard and a veterinarian aunt who specialises in dragon care, a pair of aunts who captain a cruise ship together and a former rockstar aunt who is now the reigning monarch of a small kingdom.
Now, armed with only her parents' instructions, a chest full of strange gifts and her own strong will, Bronte must journey forth to face dragons, Chief Detectives and pirates - and the gathering suspicion that there might be something more to her extremely inconvenient quest than meets the eye…
From the award-winning Jaclyn Moriarty comes a fantastic tale of high intrigue, grand adventure and an abundance of aunts.
Review
Jaclyn Moriarty is one of the most inventive and refreshing voices in contemporary young adult literature, from the authentic teen voices in her Ashbury Brookfield novels to the incredible world of her Colours of Madeleine series. The Extremely Inconvenient Adventures of Bronte Mettlestone is her first book for middle grade readers and it's exactly the kind of ironically whimsical offering that only Moriarty can give us.
When ten-year-old Bronte Mettlestone learns that her reckless adventure-chasing parents have been killed by pirates she's not surprised. But then she learns that their magical will requires her to leave her home with Aunt Isabelle, and journey alone to visit her ten other aunts across the kingdoms. Our sensible young heroine knows there's no point arguing with Faery cross-stitch, and so off she heads for a daring adventure of her own. Moriarty's world-building is wonderfully imaginative and uniquely hers, while Kelly Canby's energetic illustrations are a delight. This jam-packed, chunky novel is ideal for book-devouring readers in upper primary school.
---
Bronte Coates is the digital content coordinator and the Readings Prizes manager.
This item is in-stock and will ship in 2-3 business days
Please note, our stock data is updated overnight, and availability may change throughout the day. Prices are subject to change without notice.