Diary of a Young Naturalist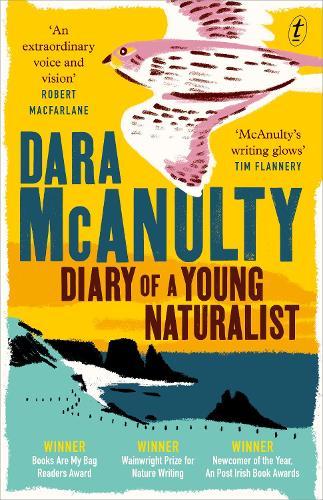 Diary of a Young Naturalist
The globally successful, Wainwright Prize-winning memoir by Irish teenager Dara McAnulty, now available in paperback format.
Diary of a Young Naturalist chronicles the turning of 15-year-old Dara McAnulty's world. From spring and through a year in his home patch in Northern Ireland, Dara spent the seasons writing. These vivid, evocative and moving diary entries about his connection to wildlife and the way he sees the world are raw in their telling.
Diary of a Young Naturalist portrays Dara's intense connection to the natural world, and his perspective as a teenager juggling exams and friendships alongside a life of campaigning.
'In writing this book,' Dara explains, 'I have experienced challenges but also felt incredible joy, wonder, curiosity and excitement. In sharing this journey my hope is that people of all generations will not only understand autism a little more but also appreciate a child's eye view on our delicate and changing biosphere.'
Review
This book by a young Irish teenager is an extraordinarily beautiful seasonal diary of observing and appreciating nature, teeming with stunning descriptions of the natural world. As he observes the changing of the seasons, the author shows a passion for the forest surrounding him and displays an impressive knowledge of birds, insects and trees. His depictions of the natural world are heartfelt and he displays wonder in the simple joys of observing the quiet movements within the forest.
Dara McAnulty's work is already esteemed; he was the youngest ever winner of the prestigious Royal Society for the Protection of Birds Medal in 2019, an award previously won by Prince Charles and David Attenborough. He is also an activist for protecting nature from the ravages of modern society, who uses his voice to protect the forests and the planet.
McAnulty is autistic and sometimes struggles with large gatherings and rapid change; he has suffered bullying for much of his young life. His two siblings and mother are also autistic, which helps them weather the storms together, and the family is a very tight group. The language in the book is sophisticated and beautiful, quite extraordinary considering McAnulty's parents were once told by a teacher that he would never even be able to string a paragraph together, let alone write a book. Yet he can now count among his fans the nature writer Robert Macfarlane, who has said 'Dara's is an extraordinary voice and vision: brave, poetic, ethical, lyrical.'
This uniquely talented young man is in possession of extensive knowledge of the natural world, as well as an exquisite way with language at such a young age. If you love nature writing, then you really must get your hands on this delightful book.
---
Angela Crocombe is the manager of Readings Kids.
This item is in-stock and will ship in 2-3 business days
Please note, our stock data is updated overnight, and availability may change throughout the day. Prices are subject to change without notice.