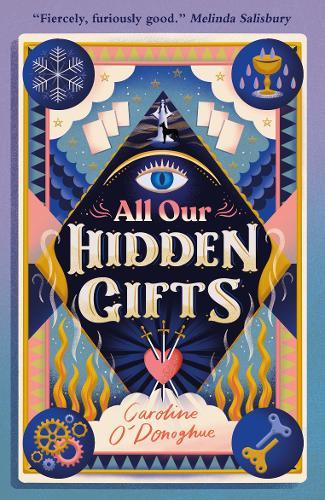 All Our Hidden Gifts
Maeve Chambers doesn't have much going for her. Not only does she feel like the sole idiot in a family of geniuses, she managed to drive away her best friend Lily a year ago. But when she finds a pack of dusty old tarot cards at school, and begins to give scarily accurate readings to the girls in her class, she realizes she's found her gift at last.
Things are looking up - until she discovers a strange card in the deck that definitely shouldn't be there. And two days after she convinces her ex-best friend to have a reading, Lily disappears.
Can Maeve, her new friend Fiona and Lily's brother Roe find her? And will their special talents be enough to bring Lily back, before she's gone for good?
Review
Caroline O'Donoghue is an Irish author and journalist who also hosts the acclaimed podcast Sentimental Garbage. Her new novel, All Our Hidden Gifts, pivots from her darkly humourous and searingly smart adult novels (Scenes of a Graphic Nature and Promising Young Women) to bring us a new supernatural series for young adults.
The story focuses on the beautifully complex world of teenager Maeve Chambers. At home, Maeve feels inadequate compared to her family of geniuses, and at school, she is below average in both studies and status. Sometimes it feels like she is just keeping her head above water. That is until she finds an old tarot card deck and discovers her natural talents for giving scarily accurate readings to the other students.
For a time, Maeve rides the wave of popularity, but when she performs a reading for her ex-best friend Lily, the mysterious card she draws, The Housekeeper, initiates Lily's disappearance. With her new friend Fiona and Lily's gender-fluid sibling Roe, Maeve is drawn into a world of magic and horror set against an Irish town where new ideas are attempting to break free from traditional religious ideals. In trying to solve the mystery of Lily's vanishing, Maeve and her friends must confront a secretive and chaotic world where mysticism and religion are twisted, and hate attempts to take hold.
All Our Hidden Gifts is a jam-packed paranormal YA fantasy. There is a lot happening within this novel, and while it can be overwhelming at times, you can't help but turn the page to discover what happens next. For readers 14+.
---
Claire Atherfold is the manager and the children's book buyer at Readings State Library.
This item is in-stock and will ship in 2-3 business days
Please note, our stock data is updated overnight, and availability may change throughout the day. Prices are subject to change without notice.