Lightfall: The Girl & the Galdurian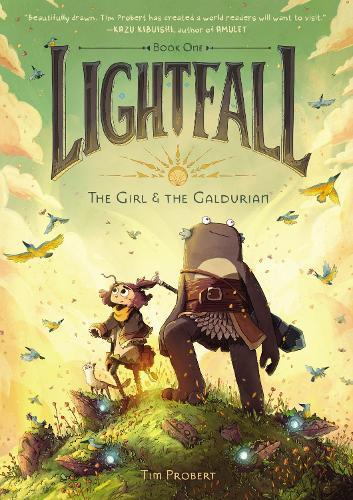 Lightfall: The Girl & the Galdurian
For fans of Amulet and middle grade readers who love sweeping worlds like Star Wars, the first book of the Lightfall series introduces Bea and Cad, two unlikely friends who get swept up in an epic quest to save their world from falling into eternal darkness.
Deep in the heart of the planet Irpa stands the Salty Pig's House of Tonics & Tinctures, home of the wise Pig Wizard and his adopted granddaughter, Bea. As keepers of the Endless Flame, they live a quiet and peaceful life, crafting medicines and potions for the people of their once-prosperous world.
All that changes one day when, while walking through the woods, Bea meets Cad, a member of the Galdurians, an ancient race thought to be long-extinct. Cad believes that if anyone can help him find his missing people, it's the Pig Wizard. But when the two arrive home, the Pig Wizard is nowhere to be found - all that's left is the Jar of Endless Flame and a mysterious note. Fearing for the Pig Wizard's safety, Bea and Cad set out across Irpa to find him, while danger fights its way out of the shadows and into the light.
Will these two unexpected friends find the beloved Pig Wizard and prevent eternal darkness from blanketing their world? Or has Irpa truly seen its last sunrise?
Review
In the past few years children's graphic novel publishing has exploded and it's so exciting to have such a beautiful range of books available for young graphic novel fans. The Girl and the Galdurian is the first book in the Lightfall series. It's a fantasy adventure set in a world inspired by nature, and gorgeously illustrated with an autumnal palette.
Bea spends her days assisting her grandfather, the Pig Wizard, in his potion shop until one day he goes missing. Naturally, Bea is very worried, but while out in the forest she meets a new friend. Cad is a Galdurian. It's a very unlikely friendship because Galdurians are thought to be extinct. Bea takes a cautious approach to life while her new buddy is goofy and good-hearted. They make a good team, and their friendship grows as they set out together to find the Pig Wizard. With humour and warmth, they see each other through some hairy situations. They even fight giant crabs and narrowly avoid being cooked for dinner.
Fans of the Hilda books will love this great addition to our graphic novel shelves, and readers ages 8 and up will be eager for more from this new fantasy series.
---
Kim Gruschow is the children's book buyer at Readings St Kilda.
This item is in-stock and will ship in 2-3 business days
Please note, our stock data is updated overnight, and availability may change throughout the day. Prices are subject to change without notice.