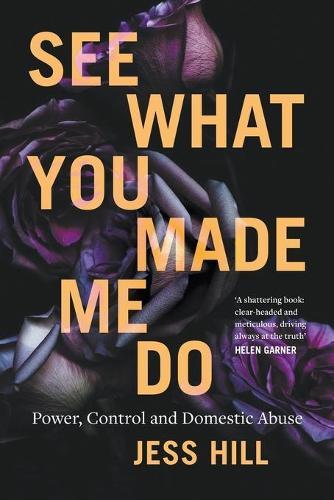 See What You Made Me Do
Women are abused or killed by their partners at astonishing rates: in Australia, almost 17 per cent of women over the age of fifteen - one in six - have been abused by an intimate partner.
In this confronting and deeply researched account, journalist Jess Hill uncovers the ways in which abusers exert control in the darkest - and most intimate - ways imaginable. She asks: What do we know about perpetrators? Why is it so hard to leave? What does successful intervention look like?
What emerges is not only a searing investigation of the violence so many women experience, but a dissection of how that violence can be enabled and reinforced by the judicial system we trust to protect us.
Combining exhaustive research with riveting storytelling,
See What You Made Me
Do
dismantles the flawed logic of victim-blaming and challenges everything you thought you knew about domestic and family violence.
Review
Sometimes you begin reading a book and everything else you need to do or think about instantly recedes. See What You Made Me Do by Jess Hill is one such book. Hill is a Walkley Award-winning investigative journalist who has been researching and writing about domestic violence since 2014. See What You Made Me Do is her first book, and to call it courageous is a gross understatement.
This book is a devastating exposé of the horrors of the many forms of domestic abuse that occur in our society every single day. Hill demonstrates, with a preoccupying synthesis of data, expert interviews and sickening case studies, that many of the systems meant to protect victims are not only comprehensively failing to help them, but also making victims' situations more dangerous and are causing lasting harm of terrifying proportions. She calls for a Royal Commission into the current functioning of the Family Court and its theoretical underpinnings; her well-considered arguments could not be more compelling. No examination of domestic abuse would be useful or complete without a thorough interrogation of the social contexts in which it occurs. Hills' writing about those who abuse, who they abuse, and why they do it is meticulous and reframes the questions in a way that is long overdue: why do abusers (the vast majority of whom are men) stay? Why do they abuse?
See What You Made Me Do is not a book about blame or recriminations. It is a manifesto for change. As Hill points out, when our government wanted to reduce tobacco use in this country, a plan with measurable goals and outcomes was formed and very effectively implemented. Citing recent successful examples, Hill makes an urgent case for recognising that not only is change essential, it is possible right now.
---
Elke Power is the editor of Readings Monthly.
This item is in-stock and will ship in 1-2 business days
Our stock data is updated overnight, and availability may change throughout the day for in-demand items. Please call the relevant shop for the most current stock information. Prices are subject to change without notice.