La Belle Sauvage (The Book of Dust, Volume 1)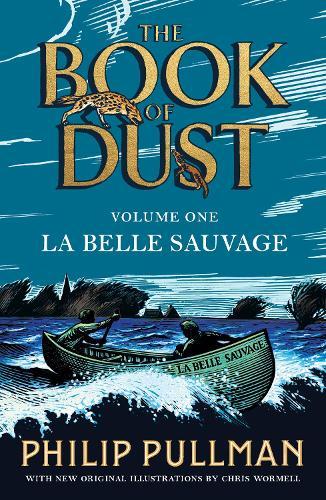 La Belle Sauvage (The Book of Dust, Volume 1)
Malcolm Polstead's Oxford life has been one of routine, ordinary even. He is happiest playing with his daemon, Asta, in their canoe, La Belle Sauvage. But now as the rain builds, the world around Malcolm and Asta is, it seems, set to become increasingly far from ordinary.
Finding himself linked to a baby by the name of Lyra Belacqua, Malcolm is forced to undertake the challenge of his life and to make a dangerous journey that will change him and Lyra forever…
Review
Cancel all your plans: Philip Pullman's new fantasy novel has arrived and it's darkly thrilling, deliciously tense and dangerously addictive.
The first in a brand-new trilogy, La Belle Sauvage is the long-awaited return to the world of Pullman's award-winning His Dark Materials trilogy. If you're a fan of the original you won't be disappointed. The book's magical imagining of England is satisfyingly familiar territory, but Pullman adds new colours and contours that expand his literary landscape in unexpected, often stirring ways. Readers new to the series won't be disappointed either – La Belle Sauvage is a brilliant, gripping adventure in its own right.
Eleven-year-old Malcolm Polstead is fascinated when the nuns at the Priory near his family's pub take a baby, Lyra, into their care. Her mother doesn't want her, her father is a murderer, and, as Malcolm comes to realise, her life is under threat. When events force his hand (not least an enormous, possibly magical, flood), Malcolm bundles up Lyra and his unwilling companion, a prickly teenager named Alice, and sets off for an action-packed journey to safety down the swollen river in his beloved canoe, La Belle Sauvage.
Be prepared to enter some rough waters – literally and metaphorically. Not surprisingly, Pullman explores some difficult territory in this work and there are moments in the narrative that are hands-down edge-of-your-seat, heart-stoppingly terrifying. My heart was wrung out and my nerves completely shot-through by the time I finished this novel. One of this book's central antagonists is so frightening and upsetting that I already know I will never forget them – even though I might like to!
La Belle Sauvage is arguably a stranger offering than Pullman's earlier books, opening up all kinds of new possibilities for where the next two books in the trilogy will take readers. I can't wait.
---
Bronte Coates is the digital content coordinator and the Readings Prizes manager.
This item is in-stock and will ship in 2-3 business days
Please note, our stock data is updated overnight, and availability may change throughout the day. Prices are subject to change without notice.