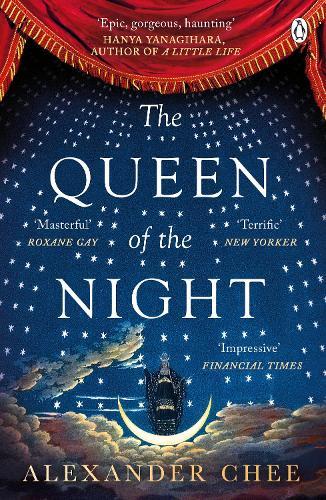 The Queen of the Night
When it begins, it begins as an opera should begin: in a palace, at a ball, in an encounter with a stranger, who you discover has your fate in his hands… She is Lilliet Berne. And she is the soprano.
1882. One warm autumn evening in Paris, Lilliet is finally offered an original role, though it comes at a price. The part is based on her deepest secret.
Only four people could have betrayed her: one is dead, one loves her still, one wants only to own her. And one, she hopes, never thinks of her at all.
In taking this role Lilliet is forced to confront her darkest lies but will the truth save Lilliet - or destroy her?
Review
This opulent operatic opus is an over-the-top-of-the-top rags-to-riches postmodern picaresque adventure stuffed full of plot, more plot, plot twists, melodrama, and lots of costume changes. It's a historical novel set in Belle Époque Paris. At its centre is the story's roguish narrator – the mysterious Lilliet Berne (at least that's the name she gives herself early on in the fiction – a name she takes from a child's gravestone at the start of her journey). Along with frequent costume changes, Lilliet changes roles and names, and selves, endlessly – moving from one version of herself to another newly-invented version, to survive.
Almost snuffed out by plague as a child, she buries every last member of her family before leaving the American plains behind. Our heroine survives on her wiles, creating new roles for herself on the run: horse rider, circus performer, prostitute, maid, courtesan, kept woman, spy, muse, celebrated soprano. She survives, but at what cost? That remains unclear, because our rogue remains mysterious, though she reveals every detail of every intrigue (when she decides it's time to reveal). Lilliet controls the story of her tale, but somehow only just manages to control the narrative of her life, which is constantly under threat. We never really know who 'Lilliet' is or what motivates her, except – perhaps – to survive. In the end, we don't know whether she loses or gains everything, or whether she ever had anything to lose or gain at all. Her tale is mesmerising.
The Queen of the Night is an homage to opera and to picaresque novels of the time. In narrative style, however, Chee moves away from nineteenth-century realism, playing games with narrative time, technique, and genre. Chee's prose is lavish and profuse, as befits the period and the topic. In sections, this slows the pace, but Lilliet's intrigues and constant reinventions (and her quest for some sort of calm or a moment of happiness) make for spellbinding reading.
---
Ed Moreno works as a bookseller at Readings Carlton.
This item is in-stock and will ship in 2-3 business days
We are currently experiencing delays in processing and delivering online orders. Click here for more information.
Please note, our stock data is updated overnight, and availability may change throughout the day. Prices are subject to change without notice.