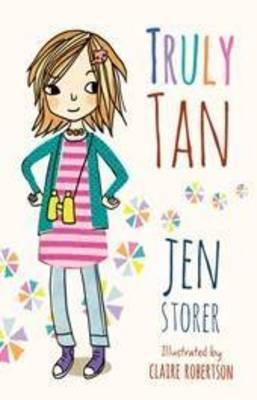 Truly Tan
Meet Tan. She's funny. She's lively. She has the mind of a Great Detective…Dear Diary, It's official. Our whole family has moved to the country. The pets are disturbed and restless. My sisters are disturbed and restless - although that's normal. What is not normal is a cursed fox and a haunted clubhouse. That is definitely unnormal. At least the country people now have an expert in their midst. Someone with a cool head and a sharp eye. Someone who can solve intriguing mysteries and knows how to keep detailed Secret Spy Files. Really, it's lucky I came along when I did. Truly Tan.
Review
Tan is the youngest of four very different girls: bossy Emerald, girly Amber, Goth-in-the-making Rose and, finally, Tan, who loves adventure, new words and making the most out of being a kid. The girls are united when the family move to the countryside with their menagerie of temperamental pets, including Doodad the poohuahua and Queen Victoria the tortoise.
An early encounter with a ghostly presence puts any fears that the countryside might be boring right out of their heads. Tan's keen detective skills are also put to the test, and the group work together to solve the mystery.
This is a thoroughly modern, funny and Australian version of Enid Blyton's Secret Seven. The plot has enough flesh on it for the upper end of the age group, a dash of peril to keep them on the edge of their seats and even a dog called Awesome.
Great fun for ages 8 to 12.
---
Emily Gale is a Children's & YA Specialist at Readings Carlton, and a Children's & YA writer the rest of the time. Her other title is 'Mum', or more accurately 'Muuuuuuuuum!'
This item is in-stock and will ship in 1-2 business days
Our stock data is updated overnight, and availability may change throughout the day for in-demand items. Please call the relevant shop for the most current stock information. Prices are subject to change without notice.