Women In Black: Text Classics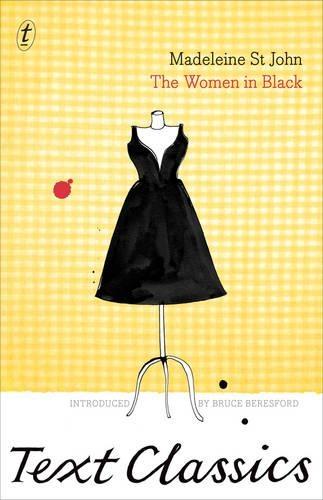 Women In Black: Text Classics
At the very end of the Ladies' Frocks Departments, past Cocktail Frocks, there was something very special, something quite, quite wonderful; but it wasn't for everybody: that was the point. Because there, at the very end, there was a lovely arch, on which was written in curly letters Model Gowns.
Written by a superb novelist of contemporary manners, The Women in Black is a fairytale which illuminates the extraordinariness of ordinary lives. The women in black are run off their feet, what with the Christmas rush and the summer sales that follow. But it's Sydney in the 1950s, and there's still just enough time left on a hot and frantic day to dream and scheme…
By the time the last marked-down frock has been sold, most of the staff of the Ladies' Cocktail section at F. G. Goode's have been launched into slightly different careers. With the lightest touch and the most tender of comic instincts, Madeleine St John conjures a vanished summer of innocence. The Women in Black is a great novel, a lost Australian classic.
Review
I first discovered Madeleine St John when I picked up a second-hand copy of her Booker-shortlisted novel, The Essence of the Thing. It was witty and insightful, with dialogue that was practically jumping off the page, and I was immediately hooked. I assumed St John was English, since her later novels were all set in London, and it wasn't until years later when Text republished The Women in Black that I learnt more about this previously unheralded Australian ex-pat.
The Women in Black was the only novel set in Sydney, but it has all the hallmarks of a St John delight: a sly, knowing wit, razor-sharp dialogue, and a rollicking pace that keeps you reading long into the night. Set in a department store in Sydney called Goode's that could well be David Jones, it traces the lives of the women who work in the Ladies' Frock Department.
Amongst the backdrop of beautiful dresses, we are taken on a wonderful journey through an important moment in time for four women and their families. We witness the flowering of young school-leaver Lisa (who changes her name from Lesley), the desperate desire of Miss Baines to end the whirlwind of pointless dates with unsuitable men, and the transformative impact a beautiful nightgown has upon Mrs Williams and her dumbstruck husband. But the most magnificent character of all is surely glamorous Magda, who presides over the pink cave where the unique Model Gowns, more art than fashion, are displayed. St John provides us with a delicious description of her:
'Magda, the luscious, the svelte and full-bosomed, the beautifully tailored and manicured and coiffed, was the most overwhelming, scented, gleaming, god-awful and ghastly snake woman…'
Magda is a Lithuanian immigrant in a time when Europeans and their tastes were treated with great suspicion, even referred to as 'reffos'. However, Magda's kindness and generosity with young Lisa eventually makes her sophistication less intimidating to the other women.
Although St John was a brilliant student at Sydney University during the heady year of 1963 that produced Germaine Greer, Clive James, and Richard Walsh, it wasn't until 30 years later, when St John was 52, that The Women in Black was published. She only produced three more novels, in quick succession, before her death from emphysema in 2006. St John's latter novels all deal with romantic relationships, usually their disintegration, and have an element of claustrophobia about them in their intense scrutiny of what goes wrong, and why. Her intense, economical dialogue between couples in these novels is breathtaking.
While I appreciate the brilliance of all St John's books, after reading them all in quick succession again recently, my favourite is still, undoubtedly, The Women in Black. The novel is greater in scope, more concerned with place and period, at a time when Australia was still far behind the rest of the world in sophistication and even women working at its most glamorous department store sometimes seem like country bumpkins. This delightfully engaging novel provides a fascinating glimpse into our recent social history and is deservedly a modern classic.
---
Angela Crocombe is the Children's Book Buyer at Readings St Kilda, mother to a three year-old, and the author of two books on sustainable living, A Lighter Footprint: A Practical Guide to Minimising your Impact on the Planet and Ethical Eating.
This item is in-stock and will ship in 1-2 business days
Our stock data is updated overnight, and availability may change throughout the day for in-demand items. Please call the relevant shop for the most current stock information. Prices are subject to change without notice.