Four Lakes Ranch: Montana Country Inn Romance Novel. Book 5
Amy Rafferty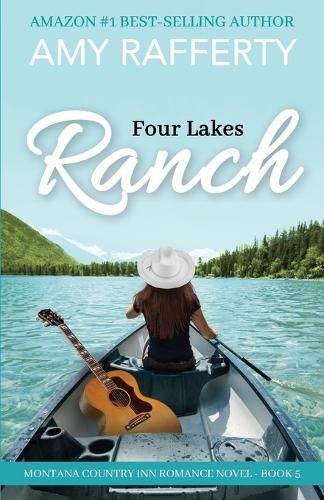 Four Lakes Ranch: Montana Country Inn Romance Novel. Book 5
This title is printed to order. This book may have been self-published. If so, we cannot guarantee the quality of the content. In the main most books will have gone through the editing process however some may not. We therefore suggest that you be aware of this before ordering this book. If in doubt check either the author or publisher's details as we are unable to accept any returns unless they are faulty. Please contact us if you have any questions.
You can learn a lot from the noble wolf. They work together as a team, are courageous, have good instincts and while they enjoy their freedom they are still loyal to those they love…
Ryan Beckett had withdrawn from society10 years ago when he'd lost half his family to a fire that had blazed through their stables. Now all that was left of his family was him and his 28-year old niece, Avery who was now a vet. She also worked at the Sparrow's animal hospital much to Ryan's dismay. He knew he was overprotective of her and their land, but it was all that was left of the Beckett legacy. Well, there was one other Beckett, but he hadn't spoken to him in almost 5 years.
Ryan had no option but to step outside his comfortable reclusive life to seek help from the surrounding ranches. Cat Sparrow and David Mills were almost killed because of one of his ranch hands. Making Ryan believe that danger from all those years ago hadn't gone away. It had retreated to the shadows waiting for another chance to make its move. Whoever was trying to push them off their land had now doubled their efforts and was no longer observing from the shadows. They were coming at the five ranches full force and all guns blazing.
What Ryan didn't need right now was a spoiled pampered movie star stumbling onto his land and nearly getting killed in the crossfire. Nor did Ryan need his soft-hearted niece insisting that Amy Guest stay with them until she was fully recovered.
Not only has Ryan got his hands full with trying to save the ranch, turn it into a country inn, and ward off the developers trying to squeeze them off the land. He now had a litter of red wolf puppies to protect as well as an injured movie star!
Amy Guest couldn't believe how rude the handsome owner of Four Lakes Ranch was. It hadn't been her fault that she'd nearly got stampeded by a herd of his cattle. She had merely been out for a nice afternoon ride. But when circumstances put Amy and Ryan in close quarters sparks start to fly between them. Amy had had her share of romances through her lifetime.
Will Ryan ever let his guard down to let someone else into his heart again?
Does Amy have the patience and most of all courage to break through the wall around his heart?
Find out in this heartwarming novel about the power of love, family bonds, and the strength in trusting those you love. Be enchanted by the lessons one can learn from the wisdom of a big red wolf that will lead Ryan and Amy to where they need to be.
The Montana Country Inn Romance series is perfect for lovers of exciting and inspirational sagas about family feuds, secrets, second chance romance, western adventure, strong heroines and lifelong friendships…and those times that make life all the richer.
This item is not currently in-stock. It can be ordered online and is expected to ship in 7-14 days
Our stock data is updated periodically, and availability may change throughout the day for in-demand items. Please call the relevant shop for the most current stock information. Prices are subject to change without notice.