Becky Odebolt: and the Girl with a Pearl Earring
A D Waggie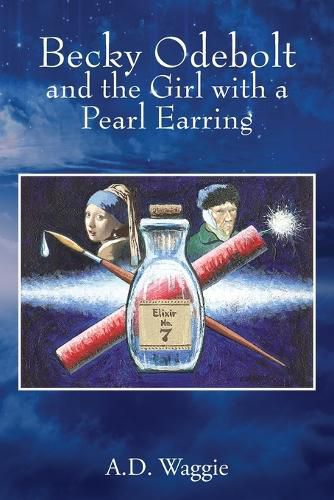 Becky Odebolt: and the Girl with a Pearl Earring
This title is printed to order. This book may have been self-published. If so, we cannot guarantee the quality of the content. In the main most books will have gone through the editing process however some may not. We therefore suggest that you be aware of this before ordering this book. If in doubt check either the author or publisher's details as we are unable to accept any returns unless they are faulty. Please contact us if you have any questions.
The state of Iowa is known for its cornfields, small towns and quiet rural life, a world sheltered away from the chaos and confusion so prevalent elsewhere.
But in 1965 in a quiet town called Beckfield nestled in the bottom corner of the state, an eleven-year-old girl named Becky Odebolt would stumble onto a secret that would set in motion a magical series of events that would rock her bucolic life and those around her. A secret locked away for a hundred years in an old French bottle hidden in a musty U. S. Army satchelbag purchased at a yard sale. A potion!
Elixir No. 7.
Diluted with water and mixed with an artist's paints, the elixir was intended to brighten and enhance a painting into a beautiful work of art. But within the clear liquid lies a much darker secret: brushing the pure, undiluted liquid onto a subject unleashes its truly magical properties. It brings the subject to life!
The tattered French letter wrapped around the bottle provided instructions as to handling the potion properly, but in the hands of an excited eleven-year-old those instructions can be easily discarded. Like the instructions for a new toy!
For thousands of years mankind has searched for a way to bring something - someone - back to life. Seances. Lightning bolts guided to a corpse. Chants found in dusty ancient books filled with archaic symbols and morbid etchings of lost souls reaching skyward for help. And all of these attempts have ended up as nothing more than silly subjects filling the imaginations of readers young and old.
Until Elixir No. 7.
This story will bring together a cast of characters seldom seen in a book that takes place in a state called Iowa, in 1965 no less. Characters such as Winston Churchill, the artists Claude Monet, Vincent Van Gogh and Johannes Vermeer. A grandma who lives in an abandoned rural schoolhouse and her sister next door who prefers a sawed-off shotgun and sticks of Hot Blow dynamite to solve everyday problems. A one-armed World War 1 veteran named Edward Sturchler who loves his German Shepherds, sic'able dogs trained to attack on command. Even the notorious submarine burglar named Ekaterina Irina Patrovsky - The Kat - finds her way into the pages of this curious story set in the rolling hayfields and streams of southern Iowa.
But most of all, this tale is about young Becky Odebolt, the Princess of the Valley, the budding artist with a vivid imagination and a questionable talent for responsible decision-making. And her fascination with one of the most famous girls in the world of classical art:
The Girl with a Pearl Earring.
This item is not currently in-stock. It can be ordered online and is expected to ship in 7-14 days
Our stock data is updated periodically, and availability may change throughout the day for in-demand items. Please call the relevant shop for the most current stock information. Prices are subject to change without notice.