Setting Your Sights on the Intersection: 90-Day Devotional & Journal
Johnny McWilliams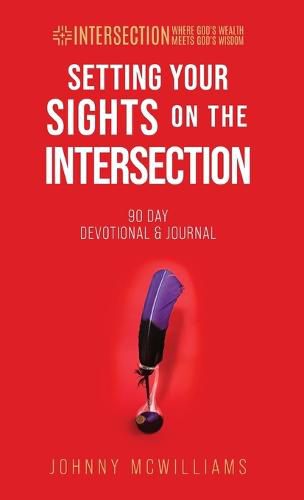 Setting Your Sights on the Intersection: 90-Day Devotional & Journal
This title is printed to order. This book may have been self-published. If so, we cannot guarantee the quality of the content. In the main most books will have gone through the editing process however some may not. We therefore suggest that you be aware of this before ordering this book. If in doubt check either the author or publisher's details as we are unable to accept any returns unless they are faulty. Please contact us if you have any questions.
In order to Zero In on your financial target, you must first set your sights, then fix your focus.
Welcome to the 90-Day Devotional & Journal that will lead you through the three books in the series, INTERSECTION - Where God's Wealth Meets God's Wisdom.
This guide will walk with you as you read book by book, part by part, chapter by chapter, and section by section. You will spend three days in each of the 30 chapters. The readings will vary by length, but the average reader will be able to complete each selection in thirty minutes or less.
Along with each daily reading, there will be:
one key Bible verse to meditate on and do further research on if you wish 2-4 questions to help you search out the scripture and dig deeper journal prompts, which are suggestions to guide your personal writings and reflections
Don't let any of this limit your prayers and thoughts on each day's teachings. Allow these questions and prompts to give you a starting point as the Holy Spirit does His work in you.
You may have your financial target in sight but have yet to fix your focus.
The blessings come where the two lines meet. So, it's time you have a focal point; let's reveal the perfect intersection of God's Wealth and God's Wisdom for your life.
The INTERSECTION series includes the titles below:
Biblical Faith Meets Financial Strategy, 2nd ed. - How to Lay a Solid Foundation for Prosperity
God's Ownership Meets Money Management - How to Be a Good and Faithful Steward
Divine Provision Meets Generosity Planning - How to Live Life to the Fullest While Richly Giving
…and the following companion for a deeper study:
Setting Your Sights on the Intersection - 90-Day Devotional & Journal
About the book series: INTERSECTION - Where God's Wealth Meets God's Wisdom
Imagine yourself at the shooting range aiming at a target. To ensure your aim is accurate, you look for a calibrated point of reference. There are two engraved lines to give you a single place to focus on when aiming at a target. The two lines cross at this spot and create what is known as crosshairs.
Crosshairs are composed of two wires or lines, one parallel and the other perpendicular to the horizon. The area that you are focused on is where the two lines intersect. The objective is to align the crosshairs with the bullseye. Aiming to hit the bullseye requires precision, and using the simple principle of intersecting lines, you can easily pinpoint that target.
When peering through the scope of your financial future, the strategy is the same. The two dimensions are God's Wealth (vertical) and God's Wisdom (horizontal). Once you have these two crosshairs in focus and zeroed-in, you can aim right at the center of your target and hit it consistently.
If you want to pinpoint your financial destiny, you need to zero-in on your target, not someone else's mark. The simple tool needed for pinpoint accuracy is the crosshairs, and one of the most critical steps is knowing where you are aiming. The blessings come where the two lines meet. Get ready to manage money according to the Word of God and live a prosperous life!
This item is not currently in-stock. It can be ordered online and is expected to ship in 7-14 days
Our stock data is updated periodically, and availability may change throughout the day for in-demand items. Please call the relevant shop for the most current stock information. Prices are subject to change without notice.