7th Grade Common Core Math: Daily Practice Workbook - Part I: Multiple Choice 1000+ Practice Questions and Video Explanations Argo Brothers (Common Core Math by ArgoPrep)
Argoprep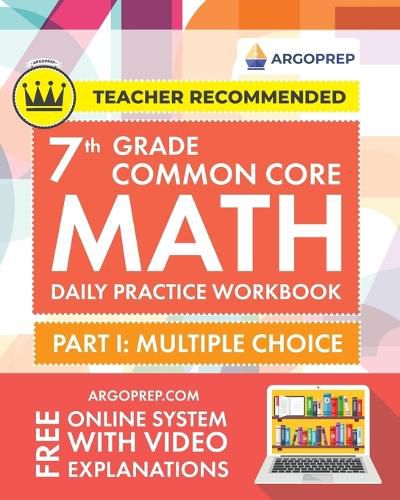 7th Grade Common Core Math: Daily Practice Workbook - Part I: Multiple Choice 1000+ Practice Questions and Video Explanations Argo Brothers (Common Core Math by ArgoPrep)
This title is printed to order. This book may have been self-published. If so, we cannot guarantee the quality of the content. In the main most books will have gone through the editing process however some may not. We therefore suggest that you be aware of this before ordering this book. If in doubt check either the author or publisher's details as we are unable to accept any returns unless they are faulty. Please contact us if you have any questions.
This book is your comprehensive workbook for 7th Grade Common Core Math.By practicing and mastering this entire workbook, your child will become very familiar and comfortable with the state math exam and common core standards. This 7th Grade Common Core Math Workbook (Multiple Choice) includes:
20 Weeks of Daily Multiple Choice Practice Weekly Assessments State Aligned Common Core Curriculum End of Year Assessment
This book has the following topics covered:
Week 1 - Rational numbers Week 2 - Multiply/divide rational numbers, fractions and solve real-world word problems Week 3 - Add, subtract, factor and expand algebraic expressions Week 4 - Rewriting expressions Week 5 - Real-world word problems Week 6 - Writing your own equations and inequalities Week 7 - Unit rates, ratios, proportions Week 8 - Percents (simple interest, tax, discount, markups) Week 9 - Statistics Week 10 - Comparing and understanding data sets Week 11 - Measures of center and measures of variability Week 12 - Probability Week 13 - Probability (continued) Week 14 - Probability: Compound events Week 15 - Scale models and diagrams Week 16 - Triangles and angles Week 17 - Geometry: Slicing three-dimensional figures Week 18 - Area and circumference of a circle Week 19 - Supplementary, complementary, adjacent angles Week 20 - Volume and surface area End of Year Assessment
Each question is labeled with the specific common core standard so both parents and teachers can use this workbook for their student(s). This workbook takes the Common Core State Standards and divides them up among 20 weeks. By working on these problems on a daily basis, students will be able to (1) find any deficiencies in their understanding and/or practice of math and (2) have small successes each day that will build competence and confidence in their abilities.
This item is not currently in-stock. It can be ordered online and is expected to ship in 7-14 days
Our stock data is updated periodically, and availability may change throughout the day for in-demand items. Please call the relevant shop for the most current stock information. Prices are subject to change without notice.