The Shining Wall
Melissa Ferguson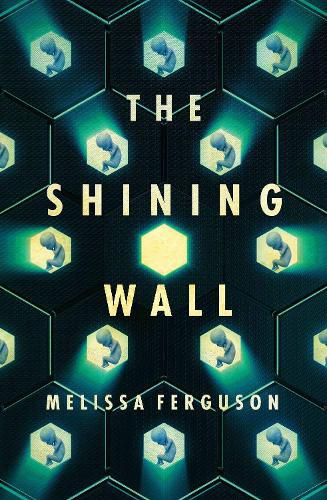 The Shining Wall
In a ruined world, where wealthy humans push health and longevity to extremes and surround themselves with a shining metal wall, privilege and security is predicated on the services of cloned Neandertals, and the exploitation of women in the shanty towns and wastelands beyond the fortress city.
This is the frightening yet moving story of orphaned Alida and her younger sister Graycie, and their struggle for survival in the Demi-Settlements outside the wall. When the sisters are forced to enter the City by very different means they risk being separated forever.
Cloned Neandertal officer, Shuqba is exiled to a security outpost in the Demi-Settlements when she fails to adhere to the impossible standards set for her species within the City. Will she offer a lifeline to Alida or betray her?
The Shining Wall is at once a frightening parable of our unjust world of haves and have-nots, a richly imagined yet thrilling story of technological control and the fight for survival, and a paean to female friendship and power.
Review
An idealist city lies surrounded by shining metal walls that were created by LeaderCorp to benefit all within their borders. Here, the Citizens have the leading technology of medi-nanities, brain implants for communication and access to apps, life extension and flawless skin. They are all born with the same shade of skin to end racism. They are served by androids, service bots and cloned Neandertals to do the jobs Citizens don't want and to provide extra security.
Outside the city is a ruined world of abandoned suburbs and a slum settlement filled with 'Demi-Citizens' who are excluded from the privileges afforded to those within the city walls. Their lives are a peculiar mix of future technology and extreme poverty – from waste recyclers and the bio chips installed on their wrists to the dwindling credits they can find from scrounging in the suburbs.
Melissa Ferguson explores this fractured world through the eyes of Alida, a DemiCitizen fighting for survival. When her mother dies from a virus, Alida is left to provide for her little sister, Graycie. Desperate, she agrees to be smuggled within the walls to lease her body for a night. From inside the walls, Shuqba, a Neo-Neandertal Security Force Officer, is exiled to the Demisettlement as punishment. Prejudice against the Neo-Neandertals runs high outside the city, with the Demi-Citizens blaming Neos for 'stolen' city jobs.
As Alida and Shuqba become friends, their companionship helps them to see life in new ways. In her new surroundings, Shuqba begins to question the laws that LeaderCorp taught her from birth in the clone orphanage.
Ferguson writes rich characters, exploring the complex nuances of privilege, desire and freedom. Their stories are bound to tug your heart-strings and further reveal the complexities of life. Ferguson explores scientific possibilities through fiction in a society that, while built on good intentions, is riddled with ignorance.
---
Cindy Morris works as a bookseller at Readings Carlton.
This item is not currently in-stock. It can be ordered online and is expected to ship in 5-9 days
Our stock data is updated periodically, and availability may change throughout the day for in-demand items. Please call the relevant shop for the most current stock information. Prices are subject to change without notice.