Lizard's Tale
Weng Wai Chan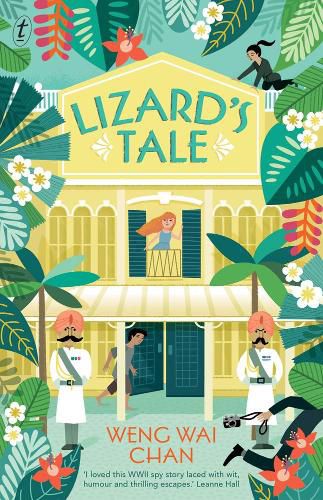 Lizard's Tale
It's Singapore in 1940, war is just around the corner-but twelve-year-old Lizard doesn't know that. He lives in Chinatown above a tailor's shop, surviving on his wits and hustling for odd jobs.
When he steals a small teak box containing a Japanese code book from a Raffles Hotel suite, he finds himself in a dangerous world of wartime espionage. Lizard doesn't know who to trust. How is the mysterious book inside the box connected to his friend Lili, a girl full of secrets and fighting skills? Can he trust her, or will she betray him in the end?
Lizard's Tale is an action-packed adventure for middle-grade readers, set in a British colony in Asia as the Japanese invasion of Singapore looms.
Review
Lizard is a street-smart twelve-year-old who lives in tiny quarters above a tailor's shop in Singapore's Chinatown, and ekes out a bare living with legitimate odd jobs, and a few slightly shady ones for minor gangster Boss Man Beng. The year is 1940 and the atmosphere in the British colony of Singapore is tense. Rumours of Japanese espionage abound, but when Lizard is asked by Beng to steal a small wooden box from a Raffles Hotel suite, he has no idea that he's about to get sucked into a dangerous vortex of organised crime and secret intelligence organisations. Privileged and somewhat-terrifying Georgina Jane Whitford Jones catches Lizard in the act and inserts herself into the intrigue, and it's not long before Lizard's friends Roshan, a Raffles waiter, and Lili, the tailor's daughter, are involved too.
The heady tropical environment and cultural melting pot of Singapore is brought vividly to life inthis thrilling historical adventure, and the political and social complexities of wartime Singapore are handled with clarity and care for a young audience. Lizard, Georgina, Roshan and Lili make a delightful team that spans class and culture; and their impressive sleuthing and spying efforts are laced with high stakes, thrilling escapes and good humour. For ages 9+.
---
Leanne Hall is a children's and YA specialist at Readings Kids. She also writes books for children and young adults.
This item is in-stock at 3 shops and will ship in 3-4 days
Our stock data is updated periodically, and availability may change throughout the day for in-demand items. Please call the relevant shop for the most current stock information. Prices are subject to change without notice.