The List
Patricia Forde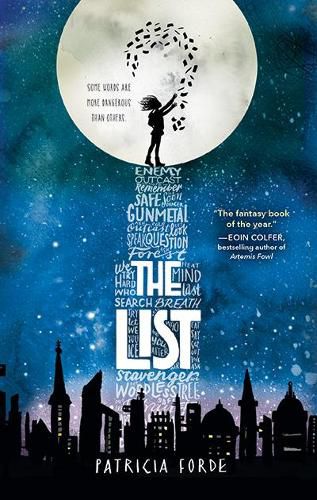 The List
'You are the Wordsmith now. Are you ready for the challenge?'
The city of Ark is the last safe place on Earth. To make sure humans avoid the mistakes of their past and are able to survive, everyone in Ark must speak List, a language of only 500 words. Everyone, that is, except Letta. As apprentice to the Wordsmith, Letta can read all the words that have ever existed. Words like freedom, music, and even pineapple tell her about a world she's never known.
One day her master disappears and the leaders of Ark tell Letta she is the new Wordsmith and must shorten List to fewer and fewer words. When Letta meets a mysterious boy who somehow knows all the words that have been banned, she's faced with a dangerous choice: sit idly by and watch language slowly slip away or follow a stranger on a path to freedom…or banishment.
Review
This dystopian middle fiction title is set in a world in the aftermath of great tragedy caused by global warming and human greed. Food and water are heavily rationed, people are not allowed to speak freely and they are controlled in their walled community, known as 'Ark', by a dictator named John Noa. There is an ever-restricting list of words that people are allowed to use, as Noa believes that language is the cause of humanity's downfall. Letta is apprentice to the sole wordsmith, who is keeper of the words people are allowed to use, so she has access to the ancient words that have fallen out of use. She loves language and is resentful of its forced subjugation.
When a boy stumbles into her shopfront after being shot, Letta chooses to protect him from the malevolent police force, known as gavvers. But this sets her down a dangerous path where she must choose to join the fight for the future of words and go up against their increasingly violent and deranged leader, or stay silent and complicit.
This is a compelling and sophisticated page-turner with a gutsy heroine that has much to say about censorship and the importance of language in making us human. Readers aged 11 and up who enjoy fantasy and thrillers will enjoy it immensely.
---
Angela Crocombe is the shop mananger at Readings Kids.
This item is in-stock at 2 shops and will ship in 3-4 days
Our stock data is updated periodically, and availability may change throughout the day for in-demand items. Please call the relevant shop for the most current stock information. Prices are subject to change without notice.