Hope Farm
Peggy Frew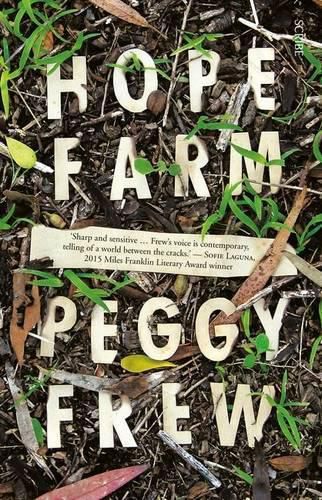 Hope Farm
Winner of the Barbara Jefferis Award 2016
'They were inescapable, the tensions of the adult world - the fraught and febrile aura that surrounded Ishtar and those in her orbit, that whined and creaked like a wire pulled too tight.'
It is the winter of 1985. Hope Farm sticks out of the ragged landscape like a decaying tooth, its weatherboard walls sagging into the undergrowth. Silver's mother, Ishtar, has fallen for the charismatic Miller, and the three of them have moved to the rural hippie commune to make a new start.
At Hope, Silver finds unexpected friendship and, at last, a place to call home. But it is also here that, at just thirteen, she is thrust into an unrelenting adult world - and the walls begin to come tumbling down, with deadly consequences.
Hope Farm is the masterful second novel from award-winning author Peggy Frew, and is a devastatingly beautiful story about the broken bonds of childhood, and the enduring cost of holding back the truth.
Review
Those of us who encountered Peggy Frew's Victorian Premier's Literary Award-winning debut novel, House of Sticks, in 2010 will have been waiting with bated breath for this, her second book. Hope Farm does not disappoint.
When the novel opens it is 1985, and thirteen-year-old Silver and her mother Ishtar are living a nomadic life in Brisbane. Ishtar dreams of getting away from Australia and their ashram dwelling existence and fills Silver's mind with notions of eating chestnuts and spaghetti in Italy. These dreams are short-lived, however. Ishtar falls for the compelling and roguish Miller, who comes into their lives and lures them down south to a hippy commune in Gippsland called Hope Farm. Silver is hesitant about the move, having been on the move since birth, but she soon begins to feel a sense of security at Hope Farm. At Hope she even gains a semblance of the family life she so desperately craves. She finds friendship with neighbour, schoolmate and fellow misfit, Ian, and they grow to cherish each other as they both navigate the awkward in-between world of adolescence.
Before long, her friendship with Ian becomes ever more important as her newfound comfort and security at Hope starts to fray and disintegrate. The adults directly in her orbit begin to clash as Miller returns from a temporary absence that coincides with the arrival of a newcomer, the enigmatic and sweet-natured Dan.
Hope Farm is peppered with Ishtar's notes and letters, giving the story an alternative voice and adding another layer to this tale of the tense relationship between mother and daughter. It's a study of memory, survival and the past, and explores what happens when the ties that bind are pulled asunder.
Hope Farm is a gorgeously written gem of a novel. I have not come across another Australian novel yet this year that I have enjoyed more.
---
This item is in-stock at 3 shops and will ship in 3-4 days
Our stock data is updated periodically, and availability may change throughout the day for in-demand items. Please call the relevant shop for the most current stock information. Prices are subject to change without notice.