The Conversion
Amanda Lohrey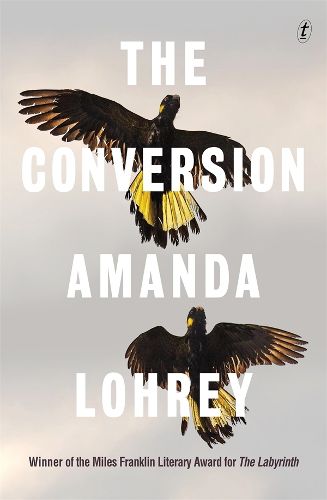 The Conversion
The conversion was Nick's idea.
Nick: so persuasive, ever the optimist, still boyishly handsome. Always on a quest to design the perfect environment, convinced it could heal a wounded soul.
The conversion was Nick's idea, but it's Zoe who's here now, in a valley of old coalmines and new vineyards, working out how to live in a deconsecrated church.
What to do with all that vertical space, those oppressive stained-glass windows? Can a church become a home or, even with all its vestiges removed, will it remain forever what it was intended to be?
For Zoe, alone and troubled by a ghost from the recent past, the little church seems empty of the possibilities Nick enthused about. She is stuck in purgatory—until a determined young teacher pushes her way into Zoe's life, convinced of her own peculiar mission for the building.
Melanie has something of Nick's unquenchable zeal about her. And it's clear to Zoe that she won't take no for an answer.
The Conversion is a startling novel about the homes we live in: how we shape them, and how they shape us. Like Amanda Lohrey's bestselling The Labyrinth, it is distinguished by its deep intelligence, eye for human drama and effortless readability.
Review
'Home is where the heart is,' says everyone everywhere, but here in this unique novel, Amanda Lohrey asks why people are driven to make a space their own. Fans of the award-winning author will be delighted to read this quiet portrait of a woman starting something new for herself. This is what Lohrey does best: she seeks to appreciate the internal ponderings of many and then to package them into a compassionate story, using characters that are finely attuned to our own meandering thoughts.
It makes sense that the protagonist, Zoe, leaves the city for an abandoned church, high on a hill, to try to find a place for herself after her husband dies. To find a place for her new self, in her new reality. It was her partner who had wanted the church; now, here she is with the high ceiling and stained-glass windows, trying to make sense of where she has landed. It takes time, and only when she lends her home to a theatre teacher does she begin to understand that what she wants is a home that conveys who she has become.
Lohrey uses Zoe to question what makes a place a home. Is it the space itself? Is it the community, or the landscape? Or is it personal learnings that allow us to rearrange and create something meaningful enough that the structure we live in becomes our haven? By questioning perceptions of home, Lohrey also tackles the challenges to identity faced when someone is struck by grief, and also by deception. She does this with her telltale grace and kindness.
This novel is perfect for long-term fans and also for readers of Ann Patchett and Alice Munro. Their ability to record every day ordinariness is what makes these writers extraordinary. Read The Conversion to be still, and to marvel.
This item is in-stock at 8 shops and will ship in 3-4 days
Our stock data is updated periodically, and availability may change throughout the day for in-demand items. Please call the relevant shop for the most current stock information. Prices are subject to change without notice.