big beautiful female theory
Eloise Grills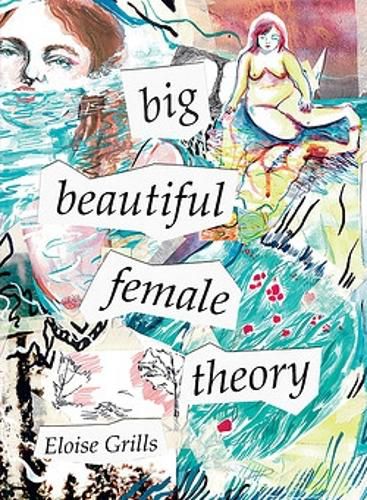 big beautiful female theory
big beautiful female theory is an anarchic and vital memoir unlike anything you've read before. Part feminist manifesto, part comic book, it is a carnivalesque exploration of the ways identity is formed through culture, relationships and the weight of society's expectations.
With breathtaking honesty and fierce wit, Eloise Grills turns her life, her body and her mind into art, confronting what it means to grow up in an increasingly unfathomable world.
Review
Eloise Grills' debut book is a boisterous examination of beauty standards, sexuality, misogyny, consumerism and the cruel vicissitudes of modern life. Part memoir, part cultural commentary, the book shapeshifts between prose and vibrant, energetic illustrations. It's not really a graphic novel, it's not quite poetry – it's an electrifying mix of both.
Grills' writing has a playful, almost sing-song quality about it. Packed with quirky acronyms and puns, referencing everything from Mean Girls to John Berger, the book tears along at breakneck pace. Some passages are filled with wry humour, others lay bare deep veins of alienation and despair. Nothing is beyond sharing, and the unapologetic honesty with which Grills examines her own life and innermost thoughts is both shocking and compelling.
Some of the fiercest joys of the book involve recognition and solidarity with artists and writers who have been sidelined by society and history. In one passage Grills describes a fantastical plan for curating the 'Museum of Fat Bitches' Art', dedicated to the 'misremembered and erased'. The increasingly baroque details build to a passionate and moving love letter to marginalised and outsider art.
If you're looking for body-positive inspiration then this is not the book for you: 'I'm dubious about it being revolutionary […] like OK, we love ourselves, now we can go frolic in a meadow.' Grills knows that trite slogans won't address the damage society inflicts on people with fat bodies: the cruel assumptions, erasure, repulsion, objectification, and vilification they are made to endure. The book unflinchingly portrays the despair of living in a fat-hating world, but also offers a defiant manifesto for survival within that world. 'This is the only way I know how to create / laughing and crying in equal measure.'
---
Ele Jenkins is a bookseller at Readings Carlton.
This item is in-stock at 5 shops and will ship in 3-4 days
Our stock data is updated periodically, and availability may change throughout the day for in-demand items. Please call the relevant shop for the most current stock information. Prices are subject to change without notice.