Limberlost
Robbie Arnott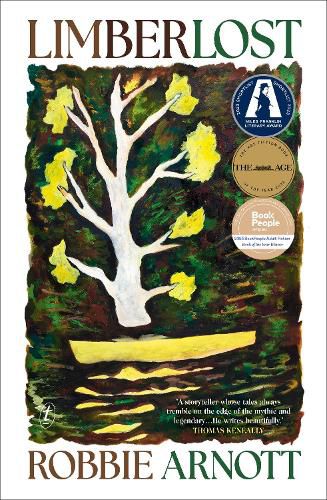 Limberlost
Winner The Age Fiction Book of the Year 2023
Winner of the 2023 Voss Literary Prize
In the heat of a long summer Ned hunts rabbits in a river valley, hoping the pelts will earn him enough money to buy a small boat.
His two brothers are away at war, their whereabouts unknown. His father and older sister struggle to hold things together on the family orchard, Limberlost.
Desperate to ignore it all-to avoid the future rushing towards him-Ned dreams of open water.
As his story unfolds over the following decades, we see how Ned's choices that summer come to shape the course of his life, the fate of his family and the future of the valley, with its seasons of death and rebirth.
The third novel by the award-winning author of Flames and The Rain Heron, Limberlost is an extraordinary chronicle of life and land: of carnage and kindness, blood ties and love.
Review
Robbie Arnott is a tremendously talented and unique voice in Australian literature, and his third novel, Limberlost, exceeded all my expectations. It is a gorgeously written coming- of-age novel, set in a Tasmanian river valley. Ned's two brothers are away at war, and news of their wellbeing is becoming increasingly sparse. Ned is left on the farm with only his kind but curt older sister and his withdrawn, reserved father.
In an effort to distract himself, Ned spends the summer hunting rabbits and selling their pelts to create slouch hats for soldiers. On the surface, this presents as an opportunity for Ned to do his part in the war, but internally, he is desperately hoping to make enough money to buy the one thing he's always wanted: a boat.
Arnott packs a lot into such a short novel, including an intimate focus on nature and on rare and majestic animals, the struggles of life on an Australian farm, and Ned's transition from teen to man to parent. The narrative shifts back and forth in time – which I occasionally found to be somewhat disorienting – but when those threads are connected, what results is a touching and profound depiction of connection, grief and familial love.
Arnott has a talent for ensuring scenes are not cluttered with action. Instead, you are given the space to truly feel each moment and take in every detail. In that sense it is a slow read, but of the good kind, of the raw, emotional and atmospheric kind.
Limberlost is much more grounded in realism than Arnott's previous novels, Flames and The Rain Heron, but still holds the same sense of wonder and mysticism that he is known for. It is a quiet book filled with underlying tension, and when that tension is finally released, I found myself doing something I rarely ever do when reading – I cried.
---
This item is in-stock at 8 shops and will ship in 3-4 days
Our stock data is updated periodically, and availability may change throughout the day for in-demand items. Please call the relevant shop for the most current stock information. Prices are subject to change without notice.