If You Could See the Sun
Ann Liang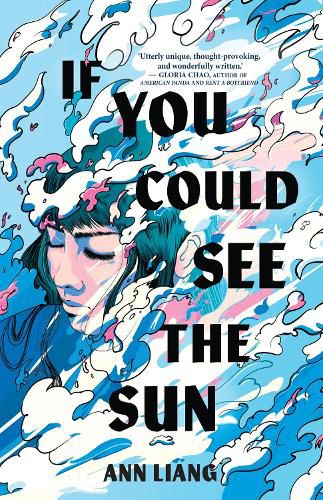 If You Could See the Sun
Winner of The Readings Young Adult Prize 2023
No secret is safe.
Alice Sun has always felt invisible at her elite Beijing international boarding school, where she's the only scholarship student in a sea of uber-wealthy classmates. But she has a plan: be top in the class, attend a prestigious university, secure a killer job, and finally lift her family out of poverty.
Then her parents drop a bomb - they can no longer afford her tuition, even with the scholarship. But that's the least of Alice's problems, because she has started uncontrollably turning invisible. As in completely, physically invisible.
Alice realises there's an upside to her strange new power - unparalleled access to the secrets of China's most rich and influential teens. Soon, Alice has a new plan: offer her invisibility services to find out what her classmates want to know - for a price. But between balancing schoolwork, a growing relationship with academic-rival-turned-business-partner Henry, and stealing secrets, things start to fall through the cracks.
As the tasks escalate from petty scandals to actual crimes, Alice must decide if helping her family is worth losing her conscience - or even her life.
Review
This novel from young Melbourne-based author Ann Liang is an intriguing and delightful debut. Set at an elite international school in Beijing, the protagonist is Alice Sun, a scholarship student, who has been told by her parents that they can no longer afford the school, even on scholarship. At the same time, she discovers she can randomly turn invisible for short periods of time. Alice decides to monetise this strange new power and recruits the help of her handsome nemesis, Henry, to create an app where people anonymously pay her to solve their problems. The two work together on tasks, such as collecting proof of a parent's adultery or deleting incriminating selfies from a phone. But the jobs escalate in risk until Alice is forced to decide if she will orchestrate a kidnapping in order to get her much-needed money.
Running alongside this new business of deception is the developing relationship between Alice and Henry, a classic enemies-to-friends-to-more scenario. As Alice learns more about the boy she has been competing against for top grades for so many years, she realises maybe he doesn't hate her (and more importantly, she doesn't hate him) after all.
Liang has created a fascinating world, giving us an insight into the ultra-wealthy, as well as the numerous sacrifices a working-class family makes to help the next generation fulfil their aspirations. This is a charming romantic comedy that explores class, societal expectations and what it means to be truly seen. Liang is an exciting new voice that will be enjoyed by readers aged 12 and up.
---
Angela Crocombe is a senior buyer at Readings
This item is in-stock at 8 shops and will ship in 3-4 days
Our stock data is updated periodically, and availability may change throughout the day for in-demand items. Please call the relevant shop for the most current stock information. Prices are subject to change without notice.