Motherthing
Ainslie Hogarth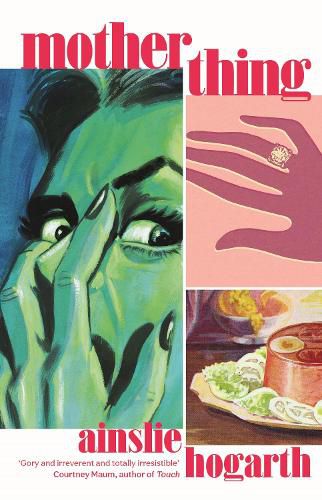 Motherthing
Abby Lamb has done it. She's found the Great Good in her husband, Ralph, and together they will start a family and put all the darkness in her childhood to rest. But then the Lambs move in with Ralph's mother, Laura, whose depression has made it impossible for her to live on her own. She's venomous and cruel, especially to Abby, who has a complicated understanding of motherhood given the way her own, now-estranged, mother raised her.
When Laura takes her own life, her ghost starts to haunt Abby and Ralph in very different ways. Ralph is plunged into depression, and Abby is being terrorized by a force intent on taking everything she loves away from her. With everything on the line, Abby must make the ultimate sacrifice in order to prove her adoration to Ralph and break Laura's hold on the family for good.
Review
To paraphrase Charles Dickens in A Christmas Carol, the mother-in-law was dead to begin with. Laura Lamb, complex, manipulative mother of Ralph, has taken her own life in the basement of his childhood home. Now Abi is left to pick up the pieces (and clean up the blood-stained carpet) while her grief- stricken husband, Ralph, falls apart. Motivated by her desire to never be like her own dysfunctional mother and informed by a 1930s cookbook, Abi is certain she knows how to navigate their way to a bright future. But what if Laura won't stay dead? And what is Abi willing to do to keep her husband safe?
Told almost entirely through Abi's darkly irreverent stream of consciousness, Motherthing presents an intimate view of a woman desperate to love and be loved, even as her reality begins to curdle. Ainslie Hogarth has crafted an unforgettably vivid character in Abi. Through her we experience a thorough exploration of mothers, the act of mothering, and the role of 'motherthings'. More painful to read though are Abi's reflections on parental abuse and the traumas we live with and pass on. This book is confronting, and Hogarth doesn't hold back from taking the reader through uncomfortable territory that may be more disturbing than anything paranormal or gory.
Motherthing sits alongside other contemporary psychological horrors such as Mona Awad's Bunny and Nightbitch by Rachel Yoder. We've come a long way from Charlotte Perkins Gilman's 'The Yellow Wallpaper' but a woman's mind is still a scary place to be. This story is so much more than a one-note mother-in-law joke and it certainly won't be to every horror reader's taste. It's deliciously macabre, heartbreaking and horrifying in equal helpings.
---
This item is in-stock at 2 shops and will ship in 3-4 days
Our stock data is updated periodically, and availability may change throughout the day for in-demand items. Please call the relevant shop for the most current stock information. Prices are subject to change without notice.