The Flying Dutchman BLEAK FUTURE
Nils Visser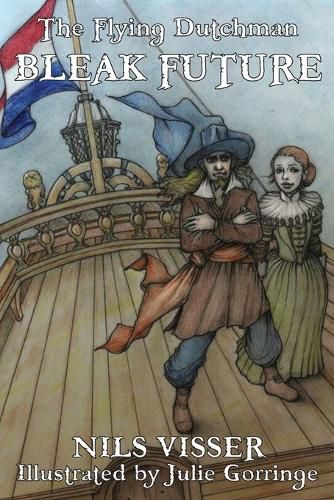 The Flying Dutchman BLEAK FUTURE
This title is printed to order. This book may have been self-published. If so, we cannot guarantee the quality of the content. In the main most books will have gone through the editing process however some may not. We therefore suggest that you be aware of this before ordering this book. If in doubt check either the author or publisher's details as we are unable to accept any returns unless they are faulty. Please contact us if you have any questions.
A tale of courage, betrayal, myth, and madness that is destined to become a legend of the Seven Seas.
1622: Threat of renewed warfare with Spain throws an ominous shadow over the young Dutch republic. Liselotte Haelen, a physician's daughter, has to cope with other shadows as well, trapped in an unhappy household as she is. Her prodigal cousin, Peter Haelen, has built a ship like no other but who will crew her? Folks are superstitious, wary of innovation. Some say Peter has defied the natural order of things. Wagging tongues claim his ship is cursed ere she's even launched. Other aspects are at play. Echoes from the past. Realms below the waves. Hidden forces that confound logic, as deep as the ocean and as wide as the sky.
A story 376 years in the making. Inspired by Willem Bontekoe's Journal (1646), German author Philipp Korber penned Der Fliegende Hollander in 1849. This work inspired Dutch author Piet Visser's De Vliegende Hollander in 1901.
In 2018 Nils Visser started writing The Flying Dutchman BLEAK FUTURE, using elements of his great-grand-uncle Piet Visser's story, but thoroughly modernizing this origins story of the infamous phantom ship for a contemporary audience.
Korber's and Piet Visser's main protagonist, Peter Haelen, plays a major part, but Nils Visser opted to tell the story through the eyes of Peter's cousin Liselotte, who only appears very briefly as 'Lotje' in Piet Visser's work, very much as a damsel in distress. Nils Visser would like to say Liselotte is his invention, but this renewed character is anything but a damsel in distress and would probably shoot the author if he tried to claim ownership.
The paperback is beautifully illustrated by Hastings based artist Julie Gorringe. She accepted the challenge to provide an illustration for each chapter. During the writing process she read each new chapter multiple times before she decided what she would draw, giving her as much creative freedom as possible within the context of illustrating a story.
BLEAK FUTURE is the first of a trilogy, to be followed by MALIGN SHADOWS and INFERNAL FATE.
Piet Visser's publisher, Gebroeders Kluitman (now Uitgeverij Kluitman), has kindly given permission for the writing of this third incarnation of Peter Haelen's doomed career as misunderstood genius and skipper of a ship like no other.
This item is not currently in-stock. It can be ordered online and is expected to ship in 7-14 days
Our stock data is updated periodically, and availability may change throughout the day for in-demand items. Please call the relevant shop for the most current stock information. Prices are subject to change without notice.