The Mantis
Kotaro Isaka, Sam Malissa (trans.)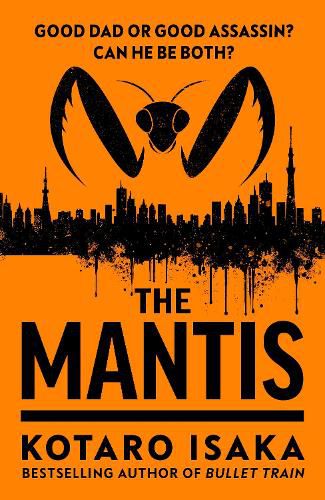 The Mantis
Good dad or good assassin? Can he be both?
From the internationally bestselling author of Bullet Train: A seemingly ordinary family man tries to juggle his home life with his job as a hitman.
Picture a mantis raising up its blades. It looks fearsome, but it's still just a tiny insect. The mantis actually thinks it can win. Even though it's tiny, it's still ready to fight to the death.
Kabuto is an ordinary guy; stressed with work, hassled by his wife and disrespected by his son. No wonder he visits his doctor so often. Except 'the Doctor' is actually his handler, and Kabuto is a hired assassin. The 'prescriptions' the Doctor hands over are his unlucky targets. Because although Kabuto may seem like a small man at home, he's really good at killing people.
Kabuto is worn out with the business of murder. He's trying to pay his way out of the Doctor's employment with a few last jobs. But the most lucrative contracts involve taking out other professional assassins and his final assignment puts both him and his family in danger.
Review
Kabuto lives a double life: one as a loving father and dutiful husband, the other as a cold-blooded contract killer. Only one of those lives is terrifying – the other is just murder for hire. Trouble is, Kabuto wants out of the game: he's tired of the bloodshed and can barely stomach killing other professionals, let alone the innocent. Leaving the criminal underworld is classically a very risky move, but it's especially difficult when he also has to make sure his wife's happy and his son's on the right path. He's going to need all his wits about him, and then some.
Told in a series of episodic vignettes, The Mantis is a wonderful chameleon of a novel, equally capable of being gripping, amusing and poignant, whether it's describing a high-stakes conversation at the dinner table or a matter-of-fact fist fight. Kabuto is a brilliantly contradictory character, lethally competent but socially hapless, anxiously devoted to never upsetting his wife but perfectly capable of keeping his biggest secret from her. It's a testament to Kotaro Isaka's writing that it's impossible not to root for Kabuto.
Throughout the novel, the dramas of everyday life, from hornet nests to parent–teacher conferences, are perfectly juxtaposed with the cut-throat Tokyo underworld that fans of Isaka's earlier novels will be immediately familiar with. It's a juxtaposition which produces a humour and lightness that never threatens to undercut the emotional stakes. Isaka will make you smile and then he'll make your stomach drop – that's just the way the business goes.
The Mantis is a thrilling and endearing tale about a man trapped between two worlds and searching for an escape. It's perfect for anyone who likes their family dramas with a little bit of murder on the side.
This item is in-stock at 8 shops and will ship in 3-4 days
Our stock data is updated periodically, and availability may change throughout the day for in-demand items. Please call the relevant shop for the most current stock information. Prices are subject to change without notice.