Days at the Morisaki Bookshop
Satoshi Yagisawa, Eric Ozawa (trans.)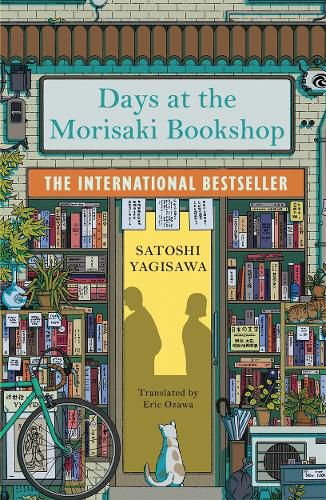 Days at the Morisaki Bookshop
Hidden in Jimbocho, Tokyo is a booklover's paradise. On a quiet corner in an old wooden building lies a shop filled with hundreds of second-hand books.
Twenty-five-year-old Takako has never liked reading, although the Morisaki bookshop has been in her family for three generations. It is the pride and joy of her uncle Satoru, who has devoted his life to the bookshop since his wife Momoko left him five years earlier.
When Takako's boyfriend reveals he's marrying someone else, she reluctantly accepts her eccentric uncle's offer to live rent-free in the tiny room above the shop. Hoping to nurse her broken heart in peace, Takako is surprised to encounter new worlds within the stacks of books lining the Morisaki bookshop.
As summer fades to autumn, Satoru and Takako discover they have more in common than they first thought. The Morisaki bookshop has something to teach them both about life, love, and the healing power of books.
Review
Born and raised in Kyushu, a southern island of Japan, Takako relocates to Tokyo to pursue life in the big city after graduating from a local college. Life seems to be going quite well until, one Friday night in June, Takako receives the startling news that her boyfriend of one year, Hideaki, is going to marry someone else.
After receiving the devastating news, Takako learns that Hideaki's soon-to-be-wife is a colleague of hers. Heartbroken, Takako quits her job and falls into depression after realising that she has no one to turn to. Then, one day, she receives a voicemail from an unfamiliar voice. Takako tries to work out who mysteriously left the message – and then it finally hits her: it was her Uncle Satoru. But why was he calling?! All Takako can recall of her uncle is that he is much older than her, and that his wife Momoko left him roughly five years ago.
Upon returning her uncle's call, Takako is met with an unexpected offer of free accommodation in exchange for helping her uncle at the Morisaki Bookshop, which is in the neighbouring town of Jimbōchō, a bookshop district in Tokyo. While working at the Morisaki bookshop, Takako, who was previously not a book reader, discovers her passion for books. Despite believing she had nothing in common with her uncle, they develop a strong bond over heartbreak, books, and coffee.
Takako and Satoru's lives appear to be going well until, one day, Momoko reappears without warning or explanation, and moves in upstairs. Uncomfortable with Momoko's return, Satoru pleads with Takako to find out why she left in the first place.
This novel explores the everyday moments that shape our lives, such as connecting with family members, heartbreaks, new beginnings, and the unexpected twists of life.
This item is not currently in-stock. It can be ordered online and is expected to ship in approx 2 weeks
Our stock data is updated periodically, and availability may change throughout the day for in-demand items. Please call the relevant shop for the most current stock information. Prices are subject to change without notice.