Spellslinger
Sebastien de Castell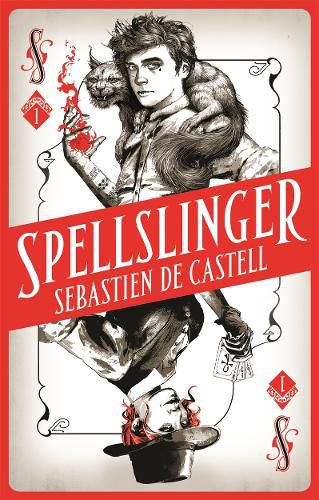 Spellslinger
When you're a Jan'Tep initiate approaching your sixteenth birthday, you'd better be ready to prove your worth as a mage. Either that or have a miracle on the way. And Kellen isn't counting on either. He knows he'll need a few tricks up his sleeve to avoid disgracing his family and becoming a Sha'Tep servant. So when a sassy, straight-talking traveller arrives in town, Kellen is all ears. Ferius Parfax is jaded but worldly, an exile who lives by her wits and the three decks of cards she carries. She can't teach him to spark his bands and access the seven magics, but with the hand that Kellen's been dealt, he knows he needs all the help he can get… A rich, compelling and laugh-out-loud new series for all teen, YA, adult and fantasy readers. Perfect for fans of The Dark Tower, Firefly, Hunger Games and Guardians of the Galaxy.
'An intoxicating mix of weird magic and high adventure…gripping from the get-go, Spellslinger is a must-read.' - Jonathan Stroud, bestselling author of Lockwood & Co.
Review
There are only a few weeks before Kellen's sixteenth birthday. Three weeks to pass the three requirements necessary to earn a mage's name. Failing will mean becoming a Sha'Tep – no more than a servant, a slave even, to the Jan'Tep who mere weeks ago were your friends, family and peers. Kellen's bands – magical tattoos every Jan'Tep child is branded with – have not sparked, and with barely a hint of magic in him, Kellen's only chance for success relies on trickery and cleverness, things which hold little value to the Jan'Tep.
Kellen is nearly killed during his first requirement, when his little sister attempts to force him to become the man she thinks he should become. He feels great shame knowing he can never be the man his father once wished him to be and is afraid he will become like his Sha'Tep uncle. Only when Ferius, the mysterious non-magical woman who saved his life, offers Kellen a different idea of what a man could be, does he feel any real hope for his own future. Ferius is scornful of magic and takes great delight in mocking the traditions and beliefs of the Jan'Tep. She finds it amusing when the Jan'Tep's feared ancient enemies the Mahdek appear to have returned from the past. Kellen, however, sees nothing funny – and fears he is the only one who can save his people, until some blunt questions from Ferius force him to think before he acts.
Spellslinger is like Firefly with magic and card-throwing in place of guns and traditional weapons. It's a three-man Guardians of the Galaxy (with a sarcastic squirrel-cat in place of Rocket Raccoon). I loved it so much, I have re-read it twice since my initial read – and felt the same heart-racing excitement each time. I cannot wait for the next book in the series.
---
This item is in-stock at 3 shops and will ship in 3-4 days
Our stock data is updated periodically, and availability may change throughout the day for in-demand items. Please call the relevant shop for the most current stock information. Prices are subject to change without notice.