The Lonely City: Adventures in the Art of Being Alone
Olivia Laing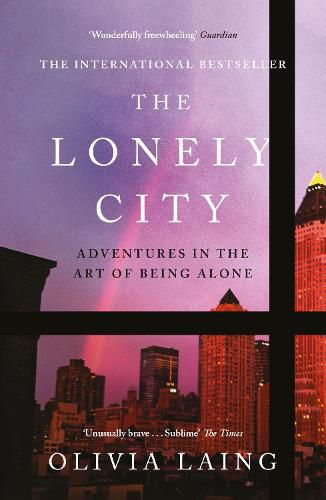 The Lonely City: Adventures in the Art of Being Alone
When Olivia Laing moved to New York City in her mid-thirties, she found herself inhabiting loneliness on a daily basis. Increasingly fascinated by this most shameful of experiences, she began to explore the lonely city by way of art.
Moving fluidly between the works and lives of some of the city's most compelling artists, Laing conducts an electric, dazzling investigation into what it means to be alone, illuminating not only the causes of loneliness but also how it might be resisted and redeemed.
Review
Olivia Laing's new book, The Lonely City, explores the connection between loneliness and creativity. Like her previous works, To the River and The Trip to Echo Spring, The Lonely City eludes neat categorisation. A fusion of scholarship and memoir, Laing weaves together elements of travelogue, philosophy, biography and art criticism with great tenderness and insight. The result is an elegantly crafted and truly compelling meditation on New York, art and the internet.
Loneliness is both Laing's emotional state and subject. Over a four-year period spending months at a time in New York after a new relationship had 'abruptly turned to dust', she turns to art as a way of grappling with her own experiences – 'I was possessed with a desire to find correlates, physical evidence that other people had inhabited my state.' Laing dedicates her time to examining the life and work of four American artists: Edward Hopper, Andy Warhol, David Wojnarowicz (the artist/activist of AIDS-ravaged 1980s New York) and the Chicago janitor and 'outsider' artist Henry Darger. Laing's relationship with the work of each artist is genuine and intimate. She paints an enthralling portrait of each of them; her speculations are sensitive and empathetic, and a pleasure to read.
The Lonely City includes an array of secondary subjects: Valerie Solanas, Klaus Nomi, Greta Garbo and Zoe Leonard, among others. The final chapters are perhaps the most interesting, a consideration of loneliness as a factor in the AIDS epidemic, and, a reflection on the contradictory role the internet plays in our lives, simultaneously connecting and isolating us.
I read The Lonely City alone in public spaces, and cried my way through the final pages, firmly attached to Laing's subjects and deeply moved by their stories. Laing dedicates her book to the reader: 'if you're lonely, this one's for you'. It would be a mistake to dismiss this as a cloying gesture. Instead, such a dedication speaks to the heart of the book and Laing's motivation for writing it. Laing has produced an absorbing, personal work of cultural criticism that, in examining the role of art as a remedy for loneliness, in turn becomes a work of art in itself.
---
This item is in-stock at 7 shops and will ship in 3-4 days
Our stock data is updated periodically, and availability may change throughout the day for in-demand items. Please call the relevant shop for the most current stock information. Prices are subject to change without notice.