Everything Feels Like the End of the World
Else Fitzgerald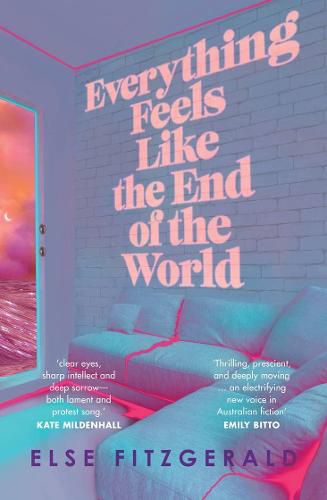 Everything Feels Like the End of the World
'A fireworks show of bursting ideas. The strength of this book is more than its beautiful prose, characterisation and concept: here is an emerging writer who has captured the heart of humanity in crisis with such insight that it feels like a revelation.' Richell Prize Judges, awarding Everything Feels Like the End of the World
Everything Feels Like the End of the World is a collection of short speculative fiction exploring possible futures from an Australia not so different from our present day to one thousands of years into an unrecognisable future.
At the heart of each story is the anchor of what it means to be human: grief, loss, pain and love. A young woman is faced with a terrible choice about her pregnancy in a community ravaged by doubt. An engineer working on a solar shield protecting the Earth shares memories of their lover with an AI companion. Two archivists must decide what is worth saving when the world is flooded by rising sea levels. In a heavily policed state that preferences the human and punishes the different, a mother gives herself up to save her transgenic child.
These transformative stories are both epic and granular, and forever astonishing in their imaginative detail, sense of revelation and emotional connection. They herald the arrival of a stunning new voice.
'Thrilling, prescient, and deeply moving … an electrifying new voice in Australian fiction.' Emily Bitto
'Clear eyes, sharp intellect and deep sorrow - both lament and protest song.' Kate Mildenhall
'An exquisite elegy for the world we know, and the world we know is to come … delicate, precise and heartbreaking.' Briohny Doyle
'A funny, tough, restless author for our times … intimate, surprising and sly.' Ronnie Scott
'Suffused with sensuality, riven with loss.' Rose Michael
Review
Else Fitzgerald, I imagine, eats rocks. These stories are tough as nails. They leave a sinking feeling in your gut as you watch lives unravel.
Everything Feels Like the End of the World spews out stories of fear and inability, as characters are unable – or in some cases unwilling – to stand up against the issues of climate change. While these stories do confront the culpability of large multinational corporations, fault is also laid at the feet of the reader. Many of the protagonists feel as if they are intentional proxies for the reader, observers of their own lives and the lives of others as it all disintegrates. In Fitzgerald's stories, humanity is frozen in horror, as the frothing wave of annihilation hangs above us and there is little to be done. Bringing the stories to the point of no return is effective, and Fitzgerald essentially asks the reader to mourn a future they are yet to experience and the losses to come. I cannot stress enough that these stories are, in a general sense, not happy ones.
Fitzgerald exposes the dark roots of Australia's current climate hypocrisy through the eyes of mothers who question their decision to bring children into the world, protestors facing violence and future environmental activists who blend technology and ecology with dire consequences. However, Fitzgerald's analysis can also feel clumsy, as some of the stories do not consider the nuances of race and class when discussing our individual contributions to the climate crisis. What Fitzgerald is effective at conveying, however, is the small, systematic ways we propel the momentum of this calamity: our tiny lives stackedon top of one another become the unfathomable systems that have created our climate crisis. This unfolds across the stories in a downpour, building into a monsoon of quiet rage. And while some readers might desire stories of positive progress, I would recommend going into this collection braced for instances of love and hope that exist in permanent confluence with despair.
Emma Clarke is from Readings St Kilda
This item is in-stock at 3 shops and will ship in 3-4 days
Our stock data is updated periodically, and availability may change throughout the day for in-demand items. Please call the relevant shop for the most current stock information. Prices are subject to change without notice.