With a Little Kelp from Our Friends
Mathew Bate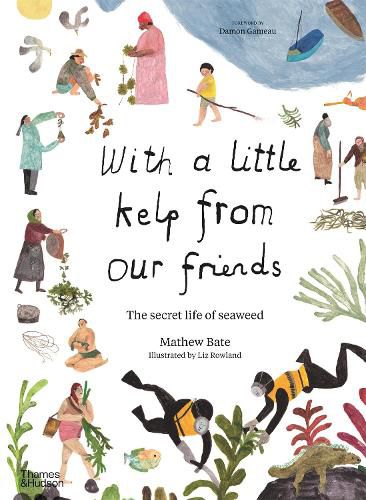 With a Little Kelp from Our Friends
Did you know that feeding seaweed to cows can reduce the methane in their burps and farts by more than half? Or that a forest of kelp absorbs more carbon than a tropical rainforest of the same size? We can even make edible bioplastics from seaweed!
Beyond the tideline, there are around 10,000 types of seaweed. An essential ingredient for life on Earth, seaweed has sustained animals and people for many thousands of years. From ancient history and mythology to modern uses in food, health and medicine, discover how seriously cool seaweed is, and how it can even help tackle climate change.
Complete with a guide to common seaweeds and foraging guidelines, this charmingly illustrated picture book will educate and inspire, and encourage respect for the natural world.
'A great, easy-to-understand book for kids about how important seaweed is.' - Tim Flannery.
Review
Subtitled The Secret Life of Seaweed, this is an utterly fascinating look at an underappreciated plant in its numerous guises. Written by Melbourne author Mathew Bate, it is packed with fascinating bits of information about the importance of different seaweeds in oceans, and how they help the whole ecosystem to function efficiently.
We also learn about the role seaweed has played in human culture in different places all around the world, including in Australia. There are facts about the potential uses of seaweed, from biodegradable plastic to biofuel. The book explores the amazing role seaweed can have in mitigating climate change and provides tips for activities, including seaweed foraging. The stunning oil-based illustrations by Liz Rowland and the large coffee table format of this book make it as appealing to adults as kids.
With a comprehensive glossary, a visual guide to common seaweeds, a foreword by Damon Gameau and an endorsement by Tim Flannery, it's an utter delight from beginning to end for children and adults alike. For ages 7+.
---
Angela Crocombe is the manager of Readings Kids.
This item is in-stock at 2 shops and will ship in 3-4 days
Our stock data is updated periodically, and availability may change throughout the day for in-demand items. Please call the relevant shop for the most current stock information. Prices are subject to change without notice.